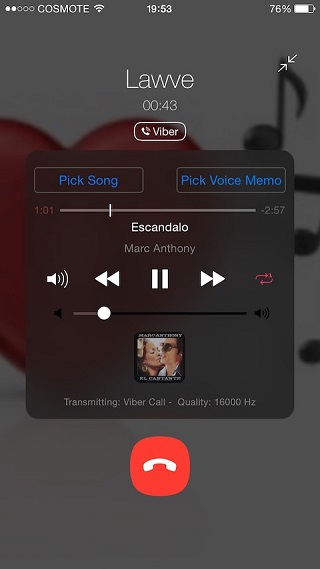 The new MusicTransport tweak finally brings the ability for users to transmit Music or sound effects playing on their iPhone through a phone call. By default iPhone does not allow users to play music during a phone call and turns the music off when the call is connected. With MusicTransport installed you will be able to play music by simply tapping on the on-screen button and selecting any song from your Music library or even play a voice memo.
The tweak has been designed to transmit your voice as well as the background sound simultaneously in a way that both are clear for the person on the other end. Using the volume control slider you can even configure how loud the music is transmitted over the call. This volume slider only affects the background music and not your own voice. The tweak also offers playback controls using which you can play/pause or scrub through a song.
You can use it to share your favorite song with someone on the call, play a sound recording from your device or to pretend you are at some place by playing an ambient sound, such as sound of traffic. The uses of this tweak are quite diverse and fun.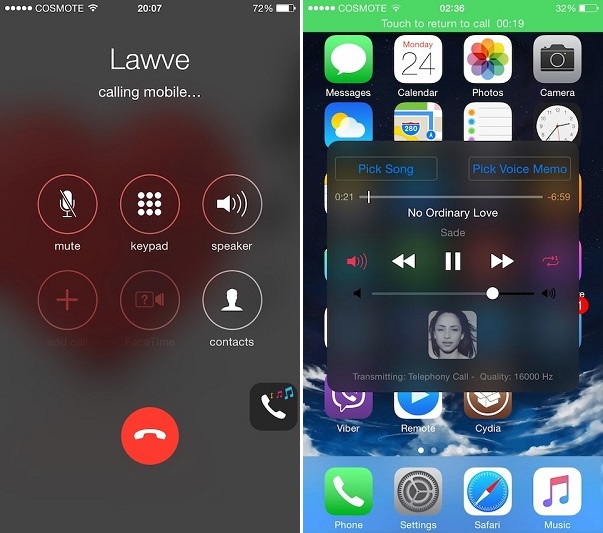 Music can be played on a call even if you are talking directly through handset as well as speakerphone, headphones, Bluetooth headset etc.
MusicTransport is not limited to just telephone calls as you can also use it on Facetime calls and calls placed through third-party apps like Viber, WhatsApp, Facebook Messenger, Skype, Tango and LINE. It also works with third-party tweaks like CallBar and AudioRecorder.
The MusicTransport tweak is available in Cydia for $2.99. It works with all versions of iOS 8.