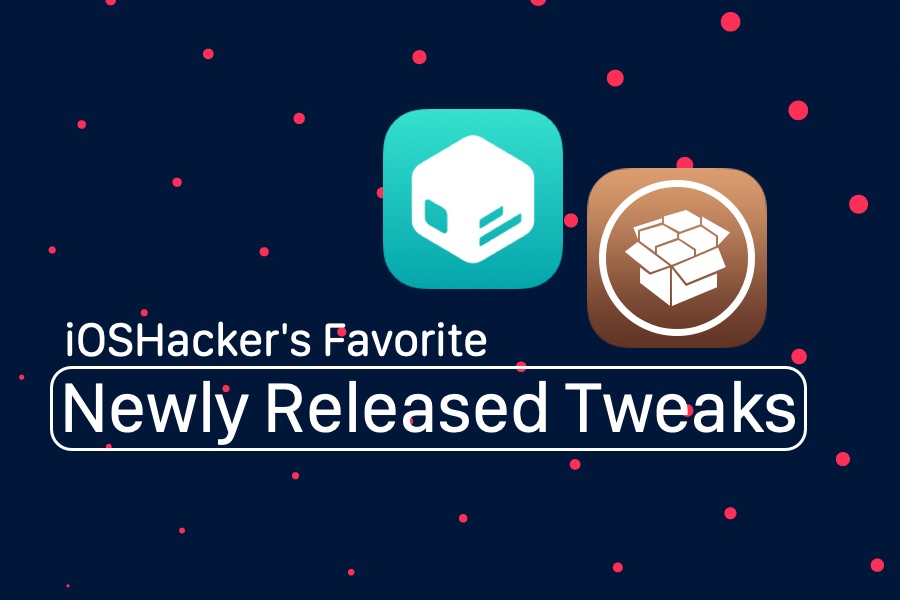 If you haven't opened Cydia or your preferred package manager for a while, then you are up for a treat. Many new iOS 13 compatible tweaks have made their way into the jailbreak stores in the past few days, and they are designed to facilitate users in customizing the look and feel of their device in a meaningful way.
In this post we have selected 5 new tweaks that we think you need to check out on your iOS 13 device. This includes Ainsworth, Wonderbar, Red Baron, Statusbar Mix and iPadBar13. Continue reading to find out what each of these tweaks do, and how you can download them on your jailbroken device.
Ainsworth: Bring AirPods-style popups to all headphones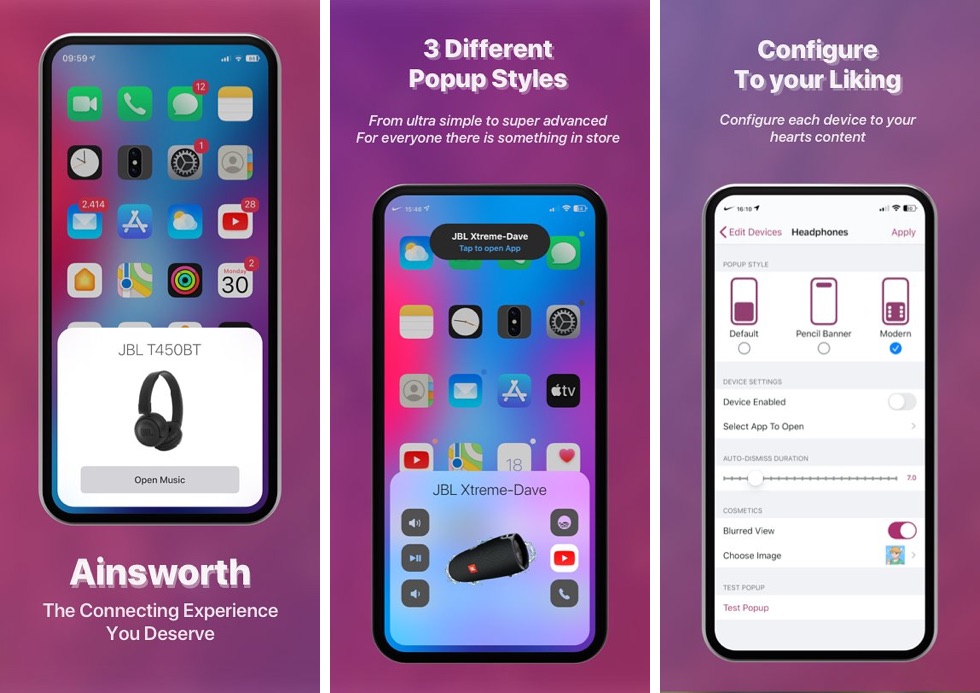 With AirPods and H1 Chip enabled Beats headphones Apple has revolutionized the way users connect their Bluetooth headphones to their iPhones. But what if you own Bluetooth speakers that are not made by Apple or its Beats brand? Don't you deserve to get the premium connecting experience? Ainsworth solves this issue by bringing AirPods-like connectivity to other Bluetooth audio devices.
With Ainsworth tweak you can enjoy AirPods-like connection widget on non-Apple headphones. You can choose between 3 popup styles for any Bluetooth device including Bluetooth headphones, wired headphones and Bluetooth speakers. The 'Modern' popup style even gives users access to multiple actions such as play/pause button, volume buttons, call button and a dedicated button to launch YouTube app.
Ainsworth is highly customizable and enables users to apply different settings to each individual audio device they own.
You can download Ainsworth tweak from the Twickd repo (https://repo.twickd.com) where it is available for $1.49.
Wonderbar: Customize status bar text and content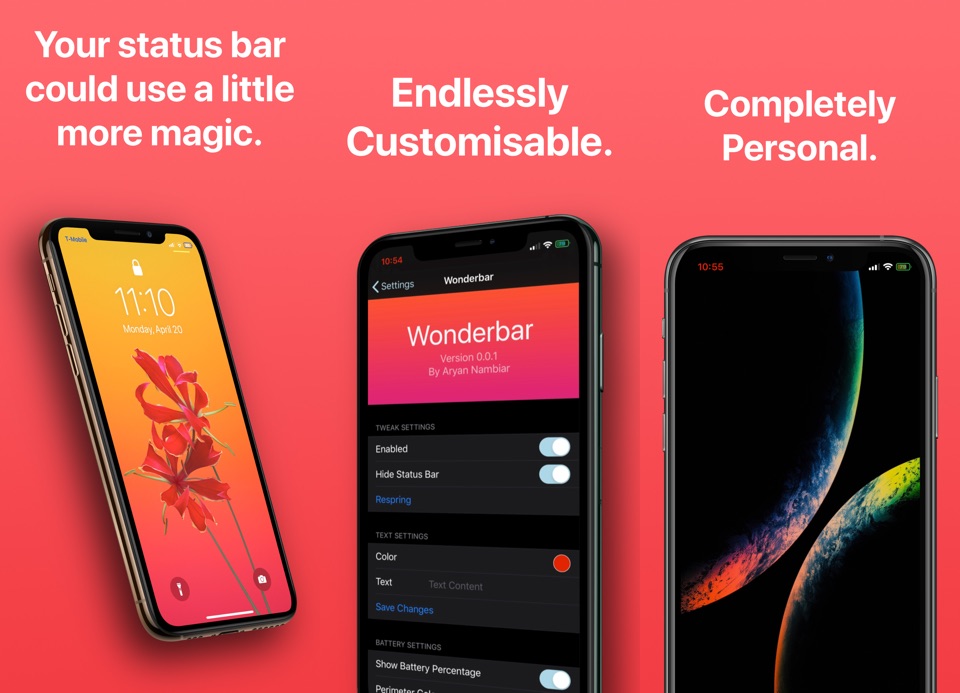 Wonderbar is a status bar focused tweak that allows users to personalize the appearance of various status bar items by changing their colors. With this hack you can change the color of status bar's text color, so the time or any other text that appears on the status bar area turns into the color of your choice. You can even replace the default time from the status bar with the text of your choice. For example, you can remove the time and replace it with the carrier name or any text of your liking.
Lastly, Wonderbar tweak for jailbroken devices makes it possible for users to control the colors of the battery indicator. Users get the ability to change the color battery indicator's interior, exterior and charging colors. Continuing with the battery indicator customizations this tweak will also enable you to change the size of the battery indicator.
You can download Wonderbar tweak from Cydia's Chariz repo (https://repo.chariz.com) where it is available as a free download. It works with iOS 12 all the way up to the latest version of iOS 13.
Red Baron: Redesign the lockscreen with new layout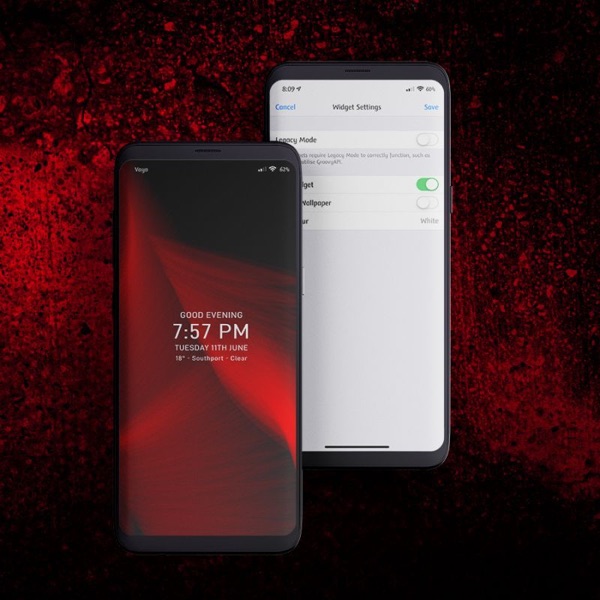 With Red Baron tweak users can change the look and feel of their device's lockscreen by adding an animated wallpaper, good morning/evening text, time, date, weather condition, current location, current temperature and changeable text color.
Red Baron changes the overall aesthetic of the lockscreen, which looks very different than the default lockscreen. You can download Red Baron tweak from Cydia or your favorite package manager through the Packix repo, where it is available for $1.50.
Statusbar Mix: Change colors for status bar icons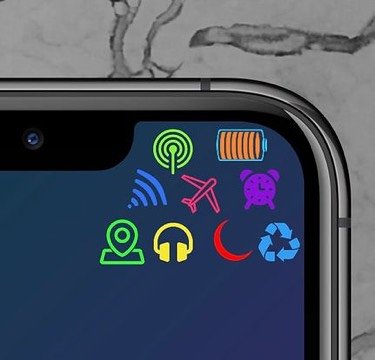 The Statusbar Mix tweak is another tweak on this list that focuses on changing the appearance of the status bar. With this tweak users can change the color of all the icons/glyphs that show up in the status bar. This includes battery, Wi-Fi, signal bars and others.
While you can change the colors of the default status bar glyphs, you can also use this tweak to customize the look of third-party made icons.
For example, you can download the Xlarge statusbar tweak to get the icons showcased in the image above and use this tweak to change their colors.
Statusbar Mix tweak is available through the Twickd repo (https://repo.twickd.com) for $0.99.
iPadBar13: Bring iPad-like status bar layout to iPhones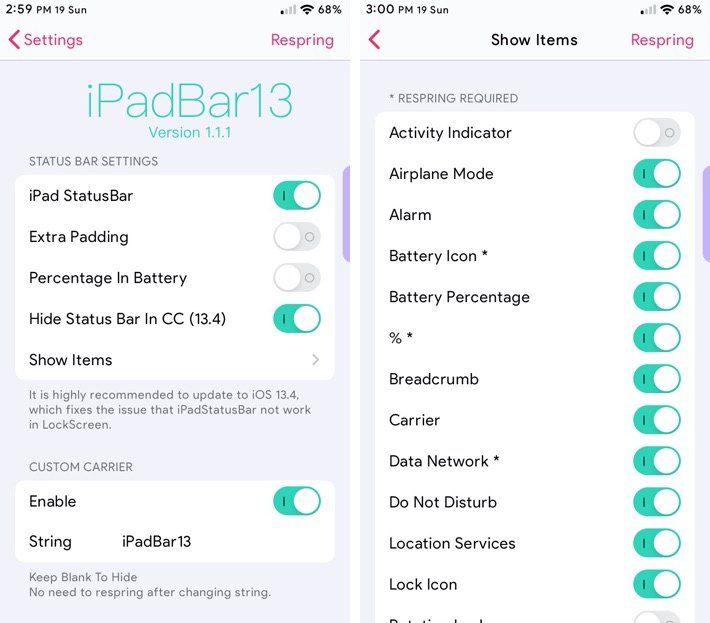 iPadBar13 tweak brings iPad inspired status bar layout to non-notch devices (such as iPhone SE 2020, iPhone 8 etc). With this tweak you can have a different layout on your device's status bar along with the ability to change the time format, network speed, carrier name and more. You can download iPadBar13 from the BigBoss repo for free.
Disclosure: iOSHacker may receive a commission if you purchase products through our affiliate links. For more visit our privacy policy page.