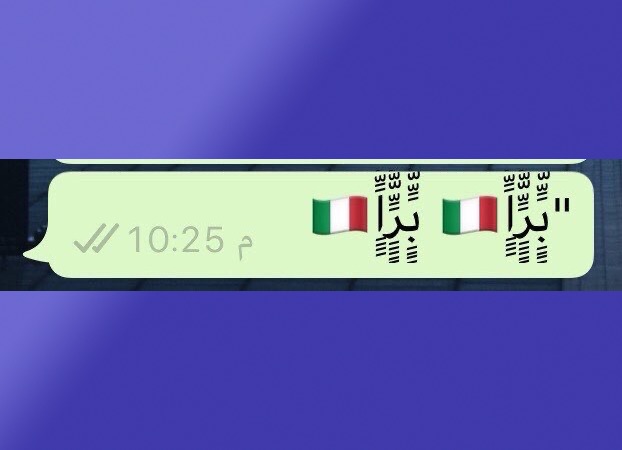 It looks like every few months we get a string based bug that causes havoc by crashing any iPhone or iPad that receives it. Nowadays a new string based bug has been going viral, which involves a Sindhi language text. When this string of text is sent to an iOS device it causes that device to crash. This bug is similar to the chaiOS and Telugu language bugs we have seen in the past.
This particular bug is not limited to the Messages app only as users can also use it to crash an iPhone through WhatsApp, Telegram, Twitter and more. The initial string of text contained characters from the Sindhi language and Italian flag emoji, however it was later found out that you don't need the Italian emoji in the string as the Sindhi language character was enough to crash any iOS device. The bug is said to affect all versions of iOS 13 however it has been fixed in iOS 13.4.5 beta 2.
Once a device has been targeted with this string it causes the device to freeze and not respond to screen touches or presses of side or volume buttons.
How To Fix Sindhi Language Bug On iPhone
If you are have fallen victim to a Sindhi language bug prank, then don't worry as the bug isn't as harmful as it appears. While you cannot use your device by touching its screen or lock it by pressing the side button, it turns out that you can still hard reset your iPhone or iPad.
Once the device has been hard reseted it reboots and returns to its normal state.
Here is how to do it:
For iPhone 8 and newer devices including iPhone 11:
Press and release the Volume Up button

 

Press and release the Volume Down button
Press and hold the Side Button.

 

Release the side button, when the Apple logo appears.
For iPhone 7 and older devices:
If you have iPhone 7 or 7 Plus press and hold the Sleep/Wake as well as the Volume Down button

 

If you have iPhone 6, older devices or an iPad with Home button, press and hold the Sleep/Wake as well as the Home button together.

Keep holding the button until the Apple logo appears.

 

With the launch screen appearance release the buttons you pressed together.

 
Users with jailbroken devices can also download CaptureTheFlag tweak, which also protects iOS devices from this bug. You can download CaptureTheFlag by adding developer MTAC's repo (https://repo.mtac.app) to your Cydia or Sileo sources.