Music app is one of the important iOS app that is used by millions on daily basis. iOS 7 brought a complete new look and features to this stock application, however there are still a number of things that need to be improved in this widely used part of iOS. To make the app better two new Cydia tweaks have been released that only focus on this particular app. In this post we are going to highlight Musical and SoundIcons tweaks, both of which can be downloaded from Cydia right now.
Musical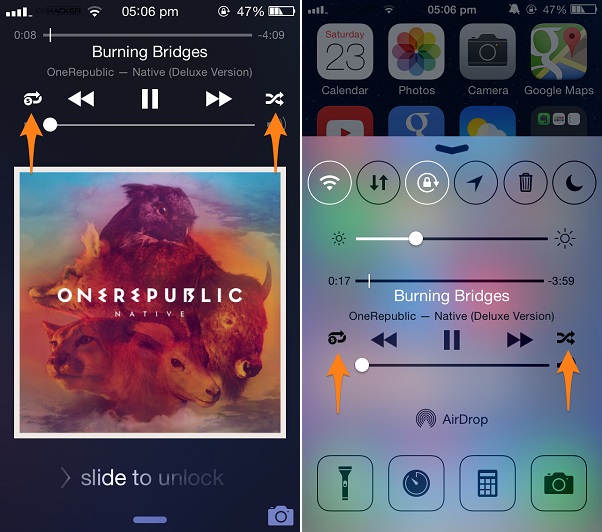 The stock Music app of iOS features the useful shuffle and repeat options that allow users to configure the application to play a song or playlist repeatedly as well as play songs by randomly choosing from the playlist. The shuffle and repeat buttons can be found in on the Now Playing screen of the app. Musical tweak makes access to these buttons more convenient by adding them to the lockscreen and the Control Center. With the addition of these buttons to LS and CC, the life of an iOS user becomes a lot more easier as he or she can access them no matter which part of the OS they are using at the moment. Musical tweak is available in Cydia for free under the BigBoss repo.
SoundIcons
The SoundIcons tweak places a fully animated equalizer on the app's icon that is currently playing music. The equalizer appears on top of the icon as seen in the image above. The best thing about this tweak is that it works on any app's icon that is playing music and not just the stock music app. So if you are playing any kind of audio on SoundCloud, Spotify or even Youtube app this equalizer will appear on that app's icon. From Settings you can customize the equalizer by configuring its animation speed, bar width, transperancy and more importantly the color of its bars. SoundIcons tweak is available in Cydia for free under the BigBoss repo.
Check out our full coverage of Cydia tweaks for Music apps here.