As always the jailbreak tweak developers were hard at work as they have released some really nice hacks in Cydia, which are now available for download. In this roundup post we will mention all the new releases and briefly explain what these tweaks do. The roundup includes Adiutor, ADKeys and iPicar. Read on to learn what these tweaks can do for you and how you can download them on your jailbroken iPhone, iPad or iPod touch.
Adiutor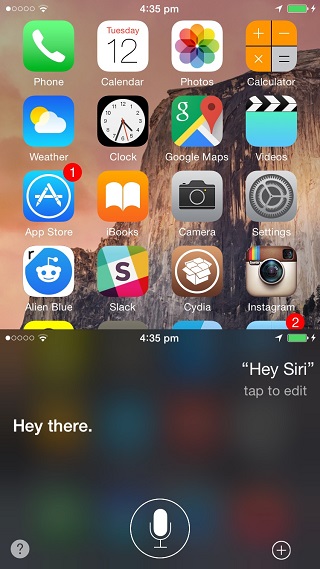 Adiutor tweak makes Siri less intrusive on iOS 8 by limiting it to the bottom half of the screen. You can still use the feature at its fullest, however it won't cover the whole screen unless you tap on the small '+' button located on the bottom right. Users can customize the size of Siri as well from settings. Adiutor tweak is avialable in Cydia at a price of $1.50.
ADKeys
ADKeys tweak is a new keyboard tweak for iOS 8 that allows users to change the appearance of their device's keyboard by making it look like the background wallpaper. In addition to that you can also apply key shade of your choice using the built-in color picker. ADKeys is available for $0.99 under BigBoss repo.
iPicar
iPicar is a privacy tweak that lets you make your iPhone hide all the messages when it is unlocked with a specified passcode. How this works is pretty simple, if you unlock the device with the normal passcode then the messages will appear as usual. However, if the device is unlocked with a special passcode then messages will be hidden. Users can even hide messages from specific contacts only and hide specific conversation threads for both SMS and iMessages. Another neat feature of this hack is that it will not show incoming messages when the device is opened with the special passcode. iPicar is available for $1.55.