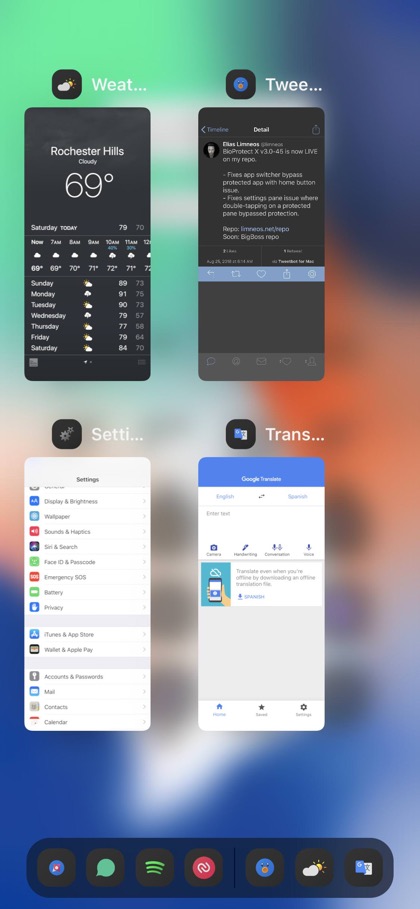 If you are not satisfied with the current app switcher on iOS, then you might want to check out the newly released NewGridSwitcher tweak for iOS 11. This Cydia tweak brings an iPad inspired grid based multitasking screen to the iPhone, allowing users to see up to four apps on the screen at once.
This new layout for the app cards helps in making the process of app switching a bit faster since there's less scrolling involved. The tweak also displays the app's icon and its label (or at least part of it), which adds to the beauty of the app switcher screen.
When NewGridSwitcher is installed you get four app cards as soon as you invoke the app switcher. You can scroll left to see more running applications and switch to them by tapping on the app card. Completing the iPad inspired look for the multitasking screen, the NewGridSwitcher tweak will also add a floating icon dock at the bottom of the screen. A later version of the tweak is said to bring the ability to disable the floating dock for those who don't like it.
You can download the NewGridSwitcher tweak from Cydia, where it is available for free. The tweak has been tested on iPhone X running iOS 11.3.1, however its developer says it may work on other devices as well. In order to download this hack simply add 'https://fncxpro.github.io' to your Cydia sources.