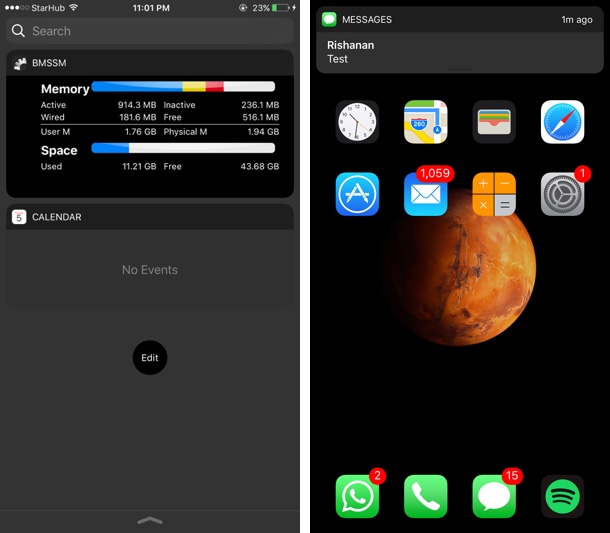 The new Noti++ is a must have for users who like to change the way different elements of their device's UI look. With this tweak you can customize how notifications appear in the Notification Center, Lockscreen and banners. Noti++ is a multifunctional tweak that offers a bunch of fun and useful features, all of which can be configured from the Settings. Perhaps the most notable feature of this tweak is that it brings a 'Dark Mode' to the notifications giving both alerts as well as Notification Center widgets a dark appearance.
The tweak also adds an iOS 9 style grabber that replaces the page dots from the NC. The tweak even makes it faster for users to access Control Center and Notification Center by allowing them to access them on first swipe. From its settings, you can turn off the bounce effect for notifications, remove day/date widget from NC and enable an option to make banner notifications stick until dismissed manually. You can also make the widgets page default from Settings.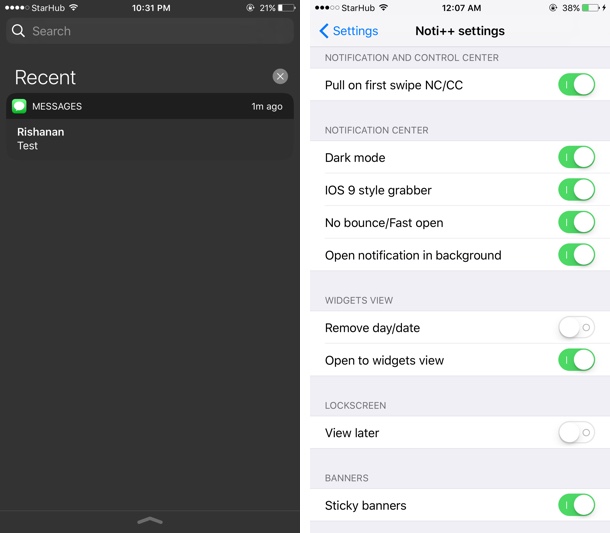 A useful feature of the Noti++ tweak will makes it possible for users to open a notification in the background. What this essentially means is when you tap on a notification to open its corresponding app, the app will be launched in the background instead of pulling you out of the Notification Center and take you in that app. So you can continue checking your notifications in NC and swipe up to see the content of the notification whenever you like.
Other cool and useful features of this tweak include view later, which prevents the screen from turning on when a new notification arrives. Your device will still alert you with a tone or vibration but without lighting up the display.
You can download Noti++ tweak from Cydia for free by adding 'http://rishanan.github.io' to your Cydia sources. According to its developers the tweak works with iOS 10 without any problems.