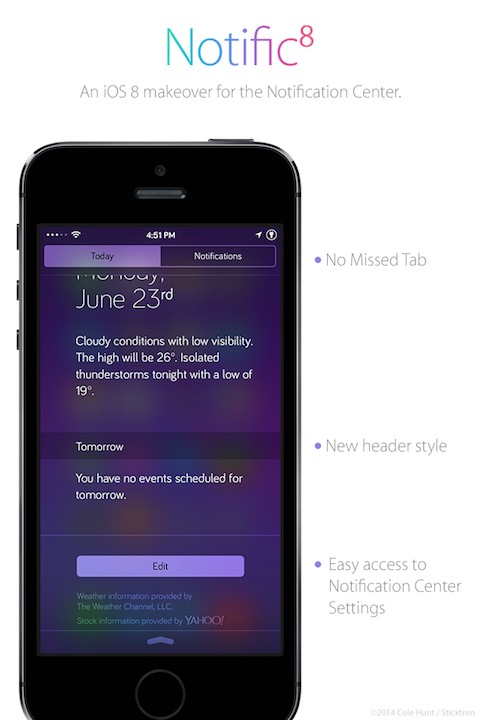 Apple announced iOS 8 on June 2nd, and at the same time made the beta available for registered developers. The public release of the 8th major update to mobile OS is due in Fall this year. However jailbreak developers have started bringing all the goodness of the upcoming iOS to the current public version. Notific8 is a newly released Cydia tweak that makes iOS 7 Notification Center look and function like the one in iOS 8 beta.
In case you don't know Notification Center in iOS 8 has been tweaked to remove the useless "Missed" tab, and only features "Today" and "Notifications" tab. "Today" tab includes date, weather, calendar events and reminders whereas you can find all the missed notifications under "Notifications" tab. Additionally this tweak allows you to access the Notification Center settings with a single tap at the "Edit" button at the bottom.
One thing to keep in mind is that this tweak only brings the UI changes from iOS 8 to iOS 7's Notification Center and doesn't feature 3rd party widgets support, which is one of the biggest features of iOS 8.
Notific8 requires iOS 7.x and is available for free at Cydia. It also works on iOS 7.1.1. In case you missed it the iOS 7.1.x jailbreak has been released and you can find our complete guide here.