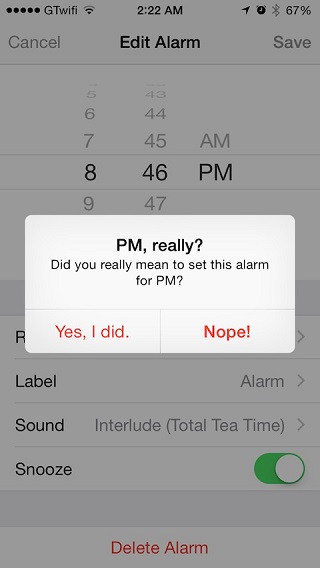 iPhones have become our primary alarm devices thanks to their handiness and ease of use. Nowadays most iPhone users prefer to wake up on a tune coming out of their smartphone rather than from traditional clock. Perhaps the biggest advantage of using your iOS device as alarm clock is that you can set up multiple alarms, change tunes and snooze with ease. When it comes to making the Alarm app even better tweaks like Safe Alarm Pro, AlarmVolume and EQUALarm also play part in improving the overall user experience.
Another Cydia tweak funnily named 'PM, really?' also focuses on the alarm clock, making it easier for users to create new entries. What this tweak does is it makes sure you don't set up wrong timing for your new alarm by displaying a confirmation message whenever you set alarm timings in PM instead of AM. This is useful because if you are using the device to wake up in the morning then chances are you want to have the alarm ring at AM rather than PM time.
Also, if you don't get the confirmation message and you actually wanted to have the alarm at a PM time instead of AM then you can learn about it as well with this tweak.
While PM, really? is a simple tweak it is very useful as it makes sure you don't set a wrong alarm and miss your meeting or class. You can download it from Cydia for free, where it is available under the BigBoss repo.
Disclosure: iOSHacker may receive a commission if you purchase products through our affiliate links. For more visit our privacy policy page.