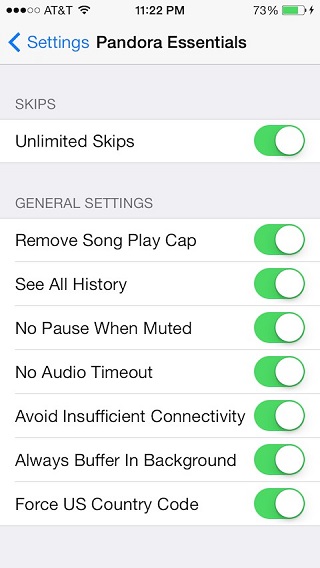 If you are an avid fan of Pandora music service and use it all the time on your iPhone or iPad you would know how annoying this app can be. In the free version it offers limited skips and other limitations that are enough to ruin your mood while you are listening to your favorite music. A recently released Cydia tweak called Pandora Essentials solves this problem by bringing a wide range of features to fix all the major annoyances of the Pandora application.
Once installed you can go to tweak's preference page where you will find a bunch of setting toggles. The very first switch will allow you to turn unlimited skips on. Once this is on you can skip as many songs as you like without any ads or error messages. But that's not all as you can also remove the cap that is placed to prevent you from playing the same song multiple times.
The Pandora Essentials tweak also enables you to see all history, prevents the app from pausing when you have muted it, removes audio timeout and also gets rid of insufficient connectivity error.
Along with all the features mentioned above, you can also turn on buffer in background option and force US country code in the application.
Pandora Essentials as its name suggests is a must have tweak for every Pandora app user. You can download it for free from Cydia's BigBoss repo. It fully supports iOS 8 or above.