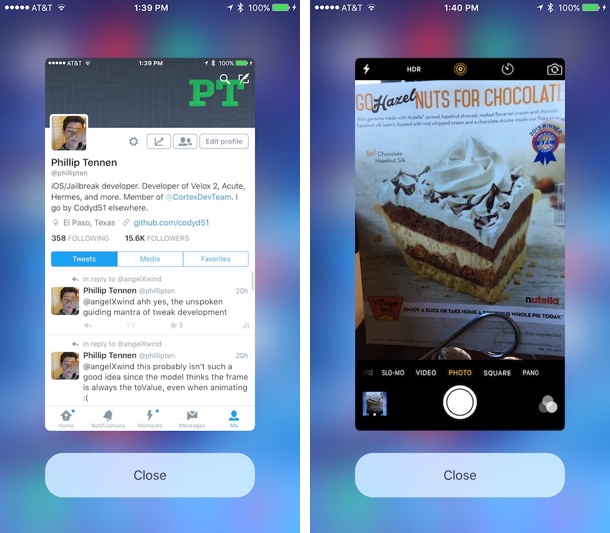 iPhone 6s offers 3D Touch features that allow users to quickly access shortcuts or previews of their content. While these features are exclusive to the latest hardware, there are several Cydia tweaks such as Forcy or UniversalForce that add this functionality to older devices. Now another new 3D Touch related tweak called Popcorn takes the homescreen 3D Touch actions to the next level by enabling peek and pop on them.
What this means is, after installing Popcorn tweak you will be able to force tap on an app's icon to get a fully working preview of it. You can quickly preform any task, and hit the close button in order to return to the homescreen. Popcorn tweak also works with older and non-3D Touch devices. If you don't have 3D touch enabled iPhone, you can swipe up to get the app preview.
The basic aim of this tweak is to provide you quick access to an app without fully launching it. While some users may find this useful, other might question its usefulness since you are not saving much time when you preview the app like that. Even if you launch the app normally, you can still return to the homescreen quickly by pressing the home button, which takes about the same time as tapping on the on-screen 'Close' button. Despite that Popcorn seems like a cool tweak to have installed.
You can download Popcorn tweak from Cydia for $0.99. It supports iOS 9 as well as iOS 8.