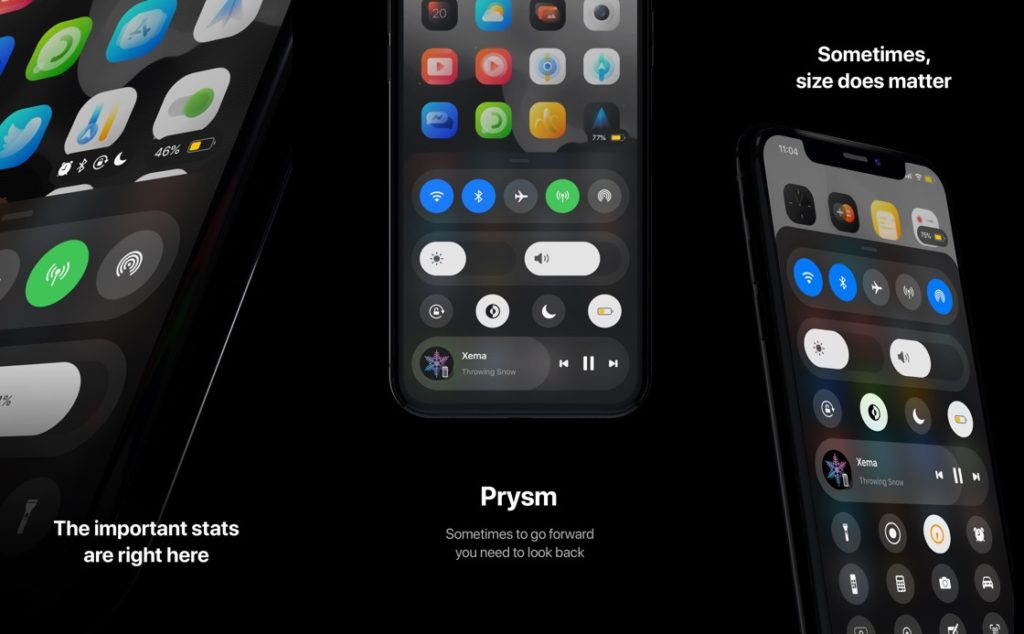 The iOS 13 Control Center is good but at the same time it has many shortcomings that Apple needs to work on. The newly released Prysm tweak for jailbroken devices aims to solve many of the problems with the stock Control Center in a bid to make it more user-friendly.
Prysm offers a wide range of features that not only give users more control over the Control Center of their device but it also adds new features to the Control Center screen.
Perhaps the biggest change that you will feel right after installing the Prysm tweak on your device is the way you access the Control Center on an iPhone X or later. Instead of the often inconvenient pull down from top right gesture Prysm lets you access the Control Center by swiping up, just like iPhone 8 or earlier. This makes it easier to access the Control Center when using the device with one hand.
In addition to changing the trigger gesture for Control Center Prysm adds new module for Weather, which shows the current weather report right on the Control Center screen.
Other changes introduced in Prysm tweak include the following:
Redesigned brightness and volume sliders
Redesigned toggle buttons
New look for the media widget
Quick access toggles and more.
You also get a better looking connectivity toggle bar that is reminiscent of the older Control Center design.
Prysm tweak adds a status widget that lets you see useful information such as battery percentage at the top of the Control Center.
Prysm tweak is packed with small features that are aimed at improving the Control Center experience. For example, all modules included in Prysm offer haptic touch based expanded menus that give you access to more content when you long press on them.
You can also enable or disable certain sections of the Control Center to make it either more feature packed or minimalistic.
You can download the Prysm tweak from Cydia's Packix repo where it is available for $3.49. It fully works with iOS 13 or later.