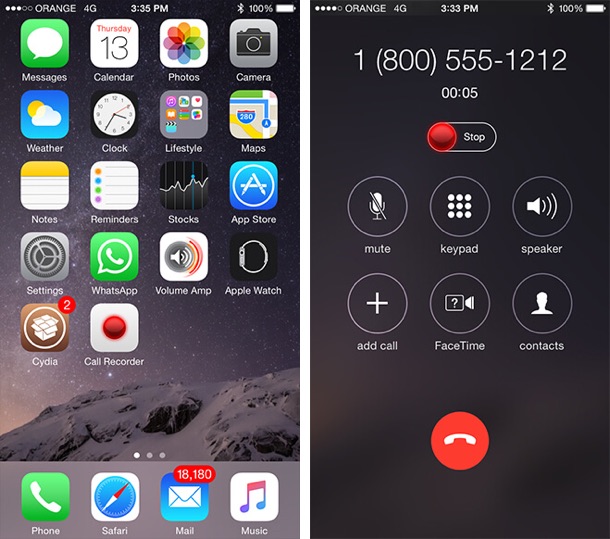 Ever since the release of the original iPhone, its users have been waiting for Apple to add a call recording feature. Right now users have to rely on external call services to record their calls on iPhone, almost of which are available on paid subscription basis.
The Call Recorder X+ tweak for jailbroken devices solves this problem by bringing a call recording feature to iOS devices. With this call recording feature users are able to record any Phone call or VoIP call. The tweak is not only able to record calls made through the Phone app, but it also works for VoIP apps including FaceTime, WhatsApp, Viber, Skype, Line, WeChat and more.
What makes using Call Recorder X+ super convenient is the fact that it starts recording phone calls automatically, which means as soon as you pick up a call the recording will start without you doing anything. The tweak works automatically for both incoming and outgoing phone calls.
The tweak adds a dedicated Call Record app to your iOS device that lets you access and play recorded calls. You can also delete or share recorded conversations from the same app. The tweak lets you setup Activator gestures for performing various actions.
Call Recorder X+ features an internal web server, which allows users to access all of their call recordings on their computer, where they can hear the conversations and download them onto their computer's memory for record keeping. Google Drive support is also available to users who are interested in uploading their recorded conversations on the cloud.
Call Recorder X+ is a complete iPhone call recording solution for iPhone and it seems like its developer has thought about all possible issues that its users might face. For example, the tweak takes care of users where it is illegal to record calls without other party's acknowledgement. In these situations the tweak will play a beep every 20 seconds to tell the other person the call is being recorded. You have option to turn this feature on or off based on your personal liking.
You can download the Call Recorder X+ tweak from Cydia or Sileo by adding Hacx repo (https://hacx.org/cydia). The tweak costs $2.99 and is compatible with iOS 12 or later, including iOS 13.
Do you think this iPhone call recording tweak is useful? Would you consider buying it for your jailbroken device? Let us know in the comments section below.