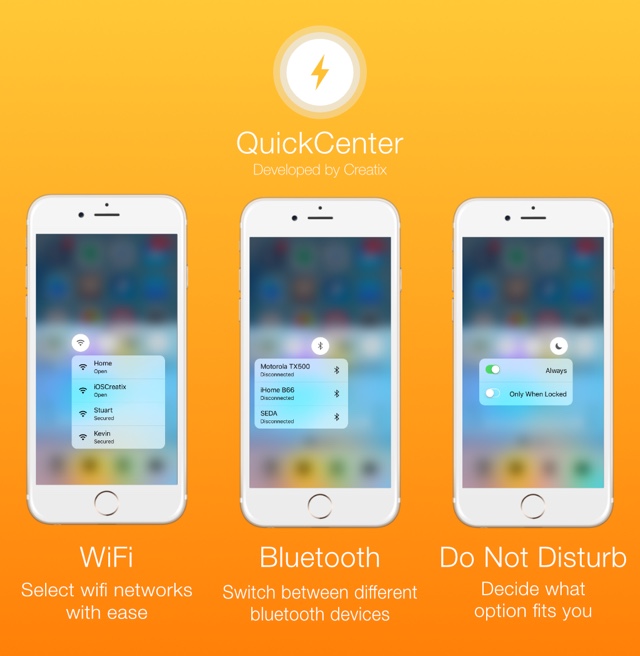 A few weeks ago we wrote about an iOS 10 concept video that showed how Control Center can take advantage of 3D Touch. The impressive concept demonstrated how implementation of 3D Touch will make Control Center so much better and more useful than it already is. Well if you liked the concept, then you would be glad to know that a new Cydia tweak called QuickCenter brings that very concept to life. It extends the functionality of the Control Center allowing users to pressure tap on a button or toggle in order to reveal more options and settings.
The toggles and buttons supported by the QuickCenter tweak include WiFi, Bluetooth, Do Not Disturb, Camera, Flashlight and Alarms. In addition to supporting a range of built-in Control Center toggles and buttons, the hack also works with Polus tweak. That means if you have added any other app in the shortcut menu, you can access its 3D Touch menu too by pressure tapping on its icon.
Here's exactly what can you do with the 3D Touch functionality QuickCenter brings to the Control Center.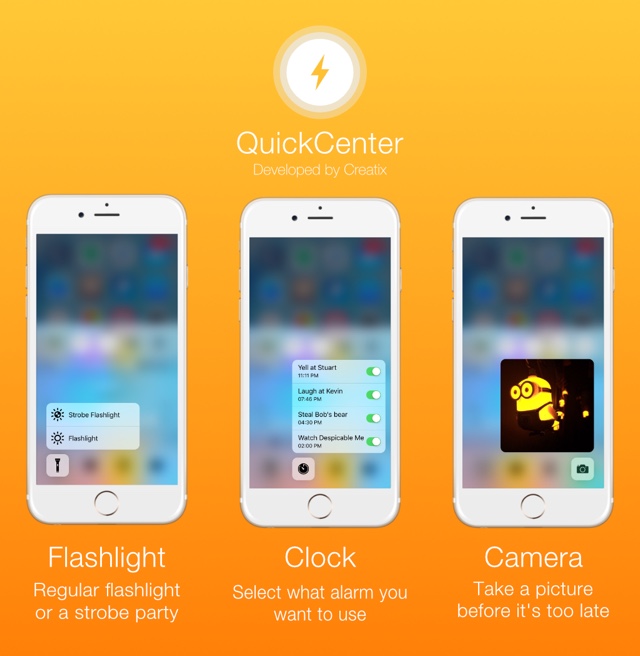 WiFi: You can switch between different WiFi networks right from the Control Center.
Bluetooth: By pressure tapping on the Bluetooth toggle you can access a list of devices that are in range and connect to them.
Do Not Disturb: With the 3D Touch menu for Do Not Disturb toggle you can choose between 'Always' and 'Only on Lockscreen' options.
Camera: You can pressure tap on the Camera icon found in the Control Center to access the live camera view, which lets you take photos right from the Control Center, without even launching the Camera app. You can even switch cameras by double tapping on the camera view, long hold to focus and resize the camera view by dragging.
Flashlight: You can turn on or strobe the flashlight using the new 3D Touch menu.
Alarm: You can turn specific alarms on and off using the 3D Touch menu without launching the Camera app.
While QuickCenter tweak is mainly designed for the devices that have built-in 3D Touch, it will also work with older devices using RevealMenu or other tweaks. Users will also be able to long press to access menus on older devices.
QuickCenter tweak has been submitted to Cydia and will be available shortly. It will support iOS 9 devices and cost $1.
Disclosure: iOSHacker may receive a commission if you purchase products through our affiliate links. For more visit our privacy policy page.