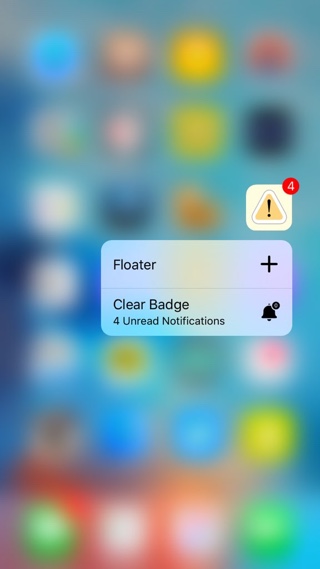 3D Touch has many potential uses but as many developers and users agree, this super useful feature has been under utilized by Apple in the stock iOS. If you are jailbroken, then you can enhance the usefulness of the 3D Touch feature of iPhone 6s and 6s plus by adding new functionalities. One of the things you can add to your iPhone is the ability to clear or reset any app icon's badge notification count. The tweak QuickClear adds a new option called 'Clear Badge' to every app using which users can clear the badge for unread notifications right from the homescreen.
QuickClear is a simple and easy to use tweak that adds a new feature to the existing 3D menus. The option is also added for apps that don't currently offer 3D Touch menus on the homescreen. To access the new button all you have to do is pressure tap on the icon and then slide your finger to the clear badge button, that's it. While QuickClear is aimed at iPhone 6s users, those on older devices with tweaks like UniversalForce or Forcy installed might also be able to take advantage of it.
You can download the QuickClear tweak on your jailbroken device from Cydia for free. You will need to add 'repo.ioscreatix.com' to your Cydia sources.