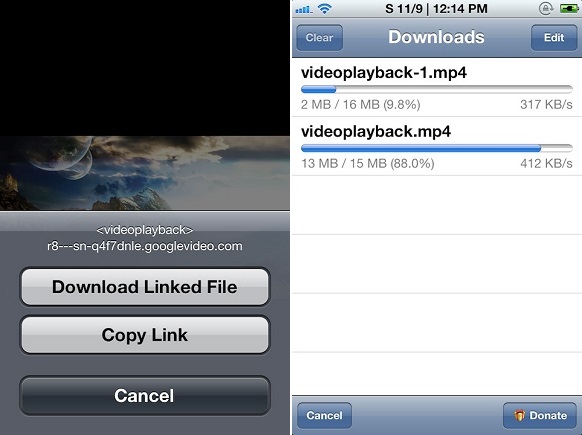 If you are a long time jailbreak user then you would have already heard about the Safari Download Enabler tweak. This hack for Safari allows users to download videos and other types of content right from iPhone and iPad's stock web browser.
Good news is that Safari Download Enabler has been updated to fully support iOS 7 powered devices. This also includes ARM64 powered devices. It adds a live downloads list to Safari and now comes with full HTML5 video support.
Downloading videos, images and links with Safari Download Enabler is super easy. To download a currently playing video all you have to do is shake your device. In order to download images or links you can tap and hold for a second or two.
Viewing the downloaded files is as easy as downloading them with Safari Download Enabler. Users can access any downloaded file by tapping and holding on the bookmarks icon, this will allow them to open the downloads list. If there are no active downloads happening at that moment then you will be directed to the file browser.
The downloaded files can also be viewed in any third party app of user's choice. To do that you only have to tap and hold on the file and then select the app you want to open it into.
Safari Download Enabler tweak for iOS 7, 6 and 5 is available in Cydia's Bigboss repo for free.