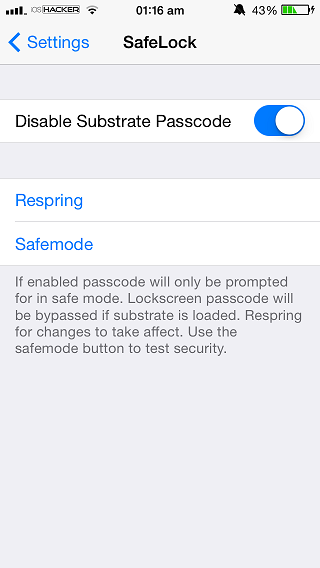 There are many third-party slide to unlock replacement tweaks available in Cydia that allow users to add more fun and secure unlock methods to their device rather than using simple and boring passcode lock. While these lockscreen tweaks are very secure they have a major loophole i.e they can be bypassed when the iOS device is placed in safe mode. Because Cydia tweaks don't work in safe mode anyone can put your iPhone or iPad into this mode and access your device.
SafeLock tweak solves this major problem for jailbreak users by only enabling the Passcode lock when the device is running in safe mode. This means you can use whatever fancy lockscreen tweak you like to unlock your device without worrying about the safe mode loophole. Whenever someone places your device in safe mode to get access to it he or she will have to enter the passcode to do so. The Passcode is not enabled and is bypassed when the substrate is running, letting you to use unlock tweak of your choice.
The tweak has been tested on all available versions of iOS 7 and is compatible with all devices. To make SafeLock run properly make sure you keep the toggle enabled from tweak's preference page.  From Settings you can also test if the tweak is working or not by putting your iPhone in safe mode.
SafeLock tweak is available in Cydia's BigBoss repo for free.