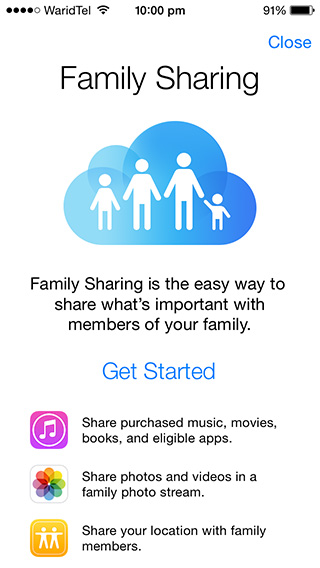 Family Sharing is one of the most useful feature of iOS 8. The idea is simple, you add six members to your Family Sharing and it allows you to share all your iTunes, App Store and iBooks purchases among the members. Now you might be thinking that you could already do that as Apple allows you to use one Apple ID on five iOS devices. Yes, but there's a lot different about Family Sharing as it makes doing this a lot more easier. You don't need a single account. You don't need to tell your password to everyone. All the six members will use their very own personal accounts.
Just setup Family Sharing on your iOS 8 device, when ready you will be able to invite five other members. Once they accept the membership all the members will be able to share music, apps, TV Shows, movies, Books, family Calendar, photos, and specific reminders. However there is a limitation and that is you won't be able to share all the purchases.
Ability to share any purchase will depend on whether developer or distributor of that item supports Family Sharing or not. Good thing is that Apple is pushing developers to support this feature and hopefully we will get the full support for the apps as developers get their apps ready for iOS 8.
Here's how to setup Family Sharing on your iPhone, iPad or iPod touch running iOS 8 or above.
Note: All the devices must be running iOS 8 or later to enjoy this feature.
1. Open the Settings app.
2. Scroll down and tap the iCloud preference pane.
3. Tap the 'Setup family sharing…'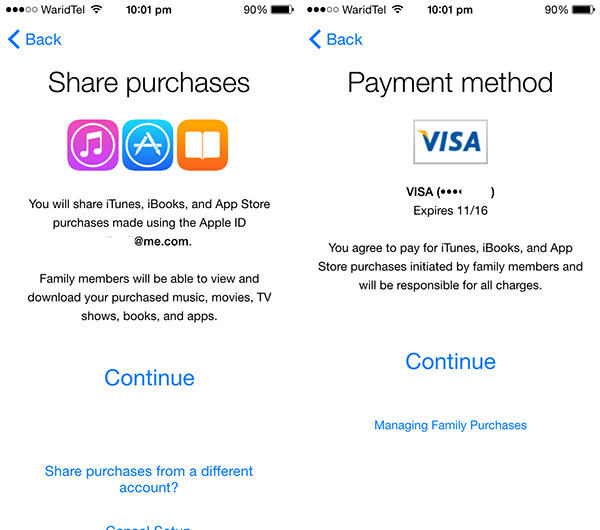 4. Now you will see the details of Family Sharing, plus you will be asked to verify that you want to share your credit card for all the purchases between family members. Carefully read the notes and instructions and tap 'Continue'.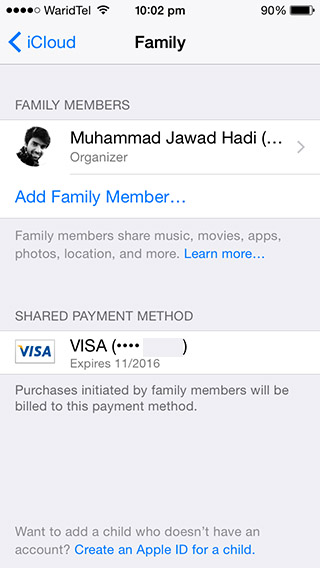 5. Finally you're now ready to add family members. Tap 'Add Family member…' to add new members.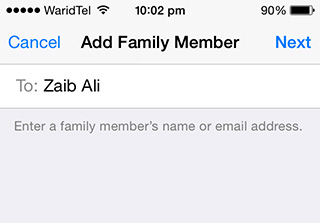 6. Type the email id of the members you want to invite.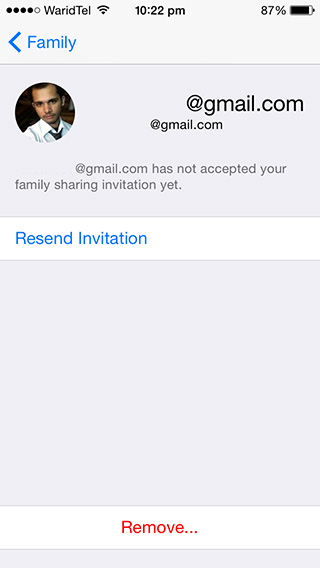 7. Now Apple will send an invitation to the added member. Once he or she accept the invite, they will be able to share purchases with you.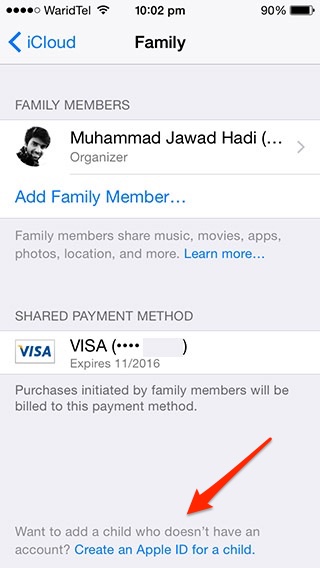 Another good feature of the Family Sharing allows you to control the purchases of your kids. You can make an account for your child from the Family Sharing setting. Now every time your child will try to buy an app he or she will need your approval. You will get a notification on your device and your child will be able to make that purchase only if you allowed him or her to do so. This eliminates the problem of children making unauthorized purchases.
You can also create a family calendar to share all the family events. Once the specific date arrives all the members will be notified for that event. Similarly it gives you the ability to set shared Reminders. Family Sharing also allows you to set up shared photo library where all the members will be able to share the photos and videos. They will also be able to like and comment the media.
All the family members will be able to track each other's location. However it can be turned off if you are planning a surprise party or don't want to share your location. If any of the family members lost his iOS device you will also be able to track that device using the Find my iPhone app.
These all are really useful and awesome features for an organized family. Stay tuned for more on iOS 8.
Disclosure: iOSHacker may receive a commission if you purchase products through our affiliate links. For more visit our privacy policy page.