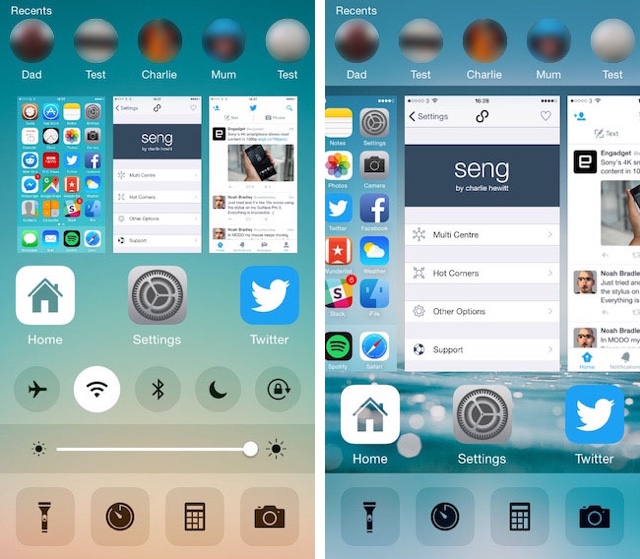 If you are tired of the old Control Center and App Switcher of iOS 8 and are looking for something new and exciting, then look no further than the new Seng tweak. Seng is a nice replacement for Control Center and App Switcher, which essentially merges these two parts of iOS to give users a better experience. Seng is very much like the popular Auxo 3 tweak, however what makes Seng a worthy alternative is the presence of so many customization options and some solid features that work flawlessly, for the most part.
The most important part of the Seng tweak is the Multi Center, which houses app cards for multitasking. It also has control sections for toggles, brightness slider and utility shortcuts, which are usually found on the Control Center. From tweak's settings you can enable or disable any of these sections and change their position to create a setup that you prefer the most. It even allows you to have intelligent music controls, which only shows controls when music is playing.
To make things even more customizable, Seng features support for popular third-party tweaks that includes Polus, CCLoader, CCSettings, QuickActivator etc.
That's not all as Seng also makes it easier for users to switch applications through its Hot Corners feature. Using Hot Corners you can switch between running apps with a slide gesture. In addition to that Seng also offers gestures to dismiss apps, homescreen gesture to lock device and more.
You can download this tweak from Cydia for $2.50. It works with iOS 8 or later.