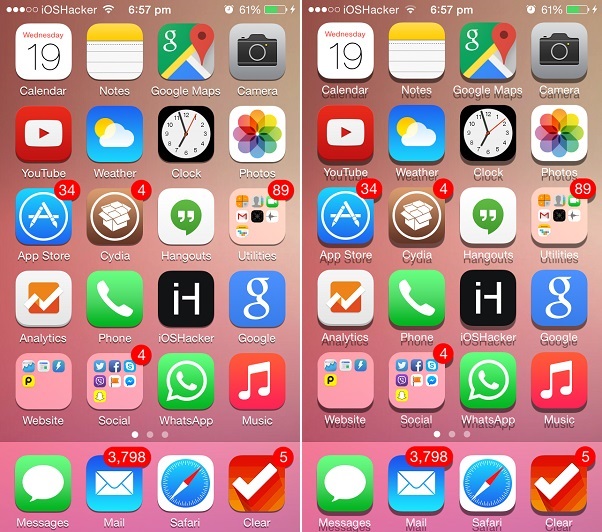 iOS's parallex effect has been a somewhat controversial feature of the operating system. While many people loved the 3D effect that appears behind the icons, others didn't appreciate Apple's effort of making iOS more 3D-ish. If you belong to the first set of people then a new tweak called ShadowBoard can help you take these springboard effects to the next level. The ShadowBoard tweak adds a live shadow behind every icon of the homescreen.
This shadow changes its angle as you move the device. The tweak just like the parallax feature takes advantage of device's motion censors to detect the movement. The shadow is not only added to the icon itself but also appears for the app's label. This tweak gives a nice 3D feeling to the whole springboard.
In the screenshot below you can see the shadow effect at one of its extreme positions. There are no settings to configure for this tweak, which is a shame as we would have loved to change the intensity of the icons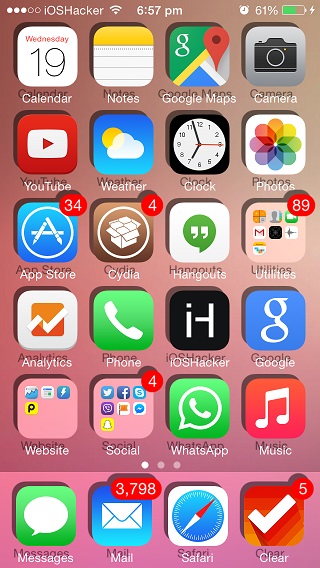 While we really liked the effect ShadowBoard brings to the homescreen icons there's one thing that you should know before downloading it. Due to a bug the tweak adds a very noticeable animation lag when you launch any app. This disappears quickly but is there nonetheless and can be very annoying to many users. We hope a fix will be arriving soon.
You can download ShadowBoard tweak from Cydia for free. It is located under the BigBoss repo. It supports both iOS 8 and iOS 7 devices.