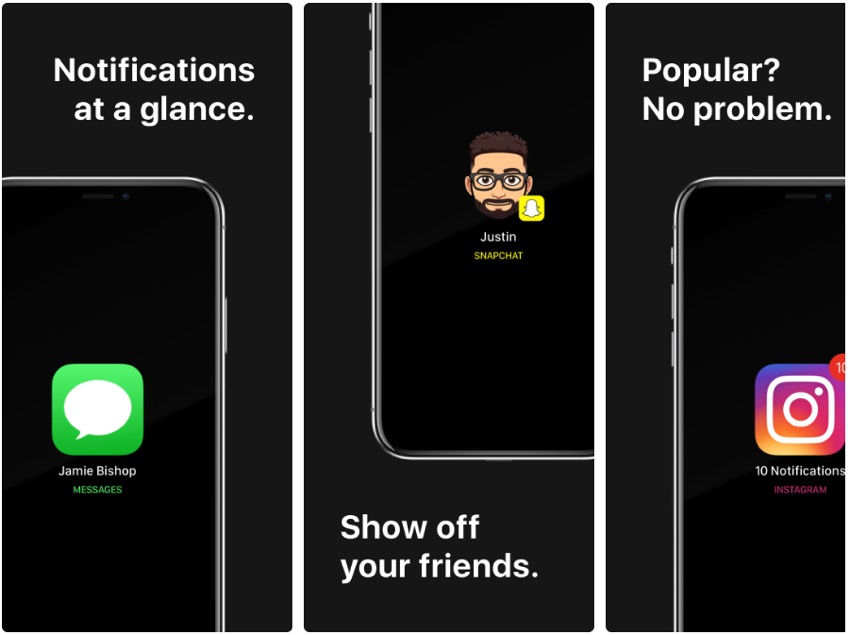 When Apple announced the OLED screen iPhone everyone thought the company will also offer some notification system that will take advantage of OLED's technology in a better way. While that still has not happened yet, new jailbreak tweak called ShortLook brings an elegant notification solution for locked devices.
The tweak is designed in a way so you can see the notification from a distance. In addition to that the tweak takes advantage of the newer iPhone's OLED screen and only wake up part of the display that is required to show the notification, resulting in low battery consumption. When a notification arrives you will see it from a distance as a large app icon will be shown on the screen. The size of the icon is large enough for you to recognize which app it belongs to even from across the room. The overall of look of the notifications look very similar to how notification icons are displayed on the Apple Watch when a new notification arrives.
ShortLook is also designed to be as unobtrusive as possible as it automatically dismisses itself as soon you you tap on the screen or pick up the device triggering Raise to Wake feature. The tweak also lets you interrupt its animation by tapping on the screen, so you can access the lockscreen of your device as you normally would without any delays.
The tweak also groups the notifications from a single app and marks them with a badge indicator. The app shows increase in the number of notification for an app with a nice bounce animation.
While the tweak is capable of showing notification icon on top of a true black background, which is great for OLED iPhones, it can also allow dark blurred backgrounds on devices that have LCD screens.
From settings, you can customize the way ShortLook looks and functions on your device. You can choose to show contact photos on notifications, change background style, choose timeout delay, show or hide notification message, enable or disable Anemone icons, change the behavior of tweak if iPhone is connected to Apple Watch and more.
Other features of ShortLook app include ability to see the content of notifications right in ShortLook, ability to view subtitle of a notification right on the lockscreen, Home Button based dismissal on older devices and more.
You can download ShortLook tweak from Cydia for $3.99. It works with all jailbroken devices running iOS 11 or above.