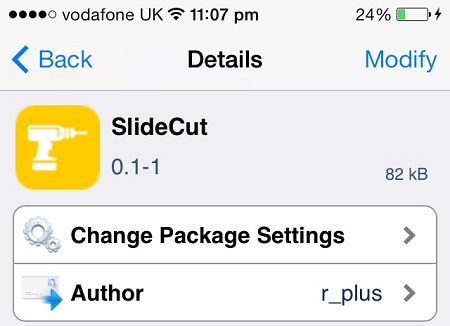 Have you ever wanted to have computer like keyboard shortcuts on your iPhone or iPad? If yes then you are going to love the SlideCut tweak from Cydia. This tweak converts the space button into PC's Shift key enabling users to perform certain actions by making sliding key combinations. There are a number of text related tasks users can perform that include copying text, pasting text, jumping to the start of a line and much more.
How this tweak works is pretty simple. You can use the space key if you tap it normally for adding spaces however if you tap on it and then slide to the keys listed below to make a combination certain actions will be performed. Upon reaching your target key you just have to release the finger for the action to take place. The best thing about this tweak is that there are no settings to configure and the tweak places no icons or settings menu on your device.
Here are the actions that are performed when you tap on space and slide to the additional keys listed below:
Space + X: Cut text
Space + C: Copy text
Space + V: Paste text
Space + A: Select All
Space + Z: Undo
Space + Y: Redo
Space + Q: Jump to start of line
Space + P: Jump to end of line
Space + B: Jump to beginning of document
Space + E: Jump to end of document
Space + S: Select a word
Space + H: Move to left
Space + J: Move down
Space + K: Move up
Space + L: Move right
SlideCut tweak is available in Cydia for free and runs on all iOS devices. It supports iOS 5, iOS 6 and iOS 7.