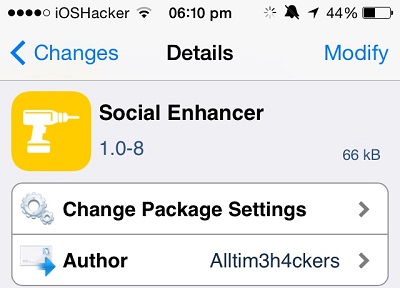 Just like there are limitations in certain stock apps of iOS there are similar annoyances in many popular third party applications. For example many social apps limit you from sending more than a certain amount of photos at once or many mail apps limit the size or number of files you can attach to an email. For this very reason we jailbreak our devices, as there are multiple hacks that make it possible for iOS users to remove these pointless limitations and unlock the full potential of their devices.
Social Enhancer is another tweak that removes the limitations from stock and third party applications. With this tweak installed you can send unlimited photos to your friends when using WhatsApp, Facebook Messenger, Skype, Viber, Paper by Facebook and Telegram.
That's not all as Social Enhancer also allows users to attach unlimited files to their emails when they are using official Gmail, Yahoo! Mail and iMessage apps. The app also enables the ability to send unlimited 'likes' in FB Messenger and share long videos.
Apart from that Social Enhancer packs useful sharing options for Dropbox, Safari, Camera app, App Store, iTunes and Maps.
You can download this tweak from Cydia for free. It can be found under BigBoss repository.