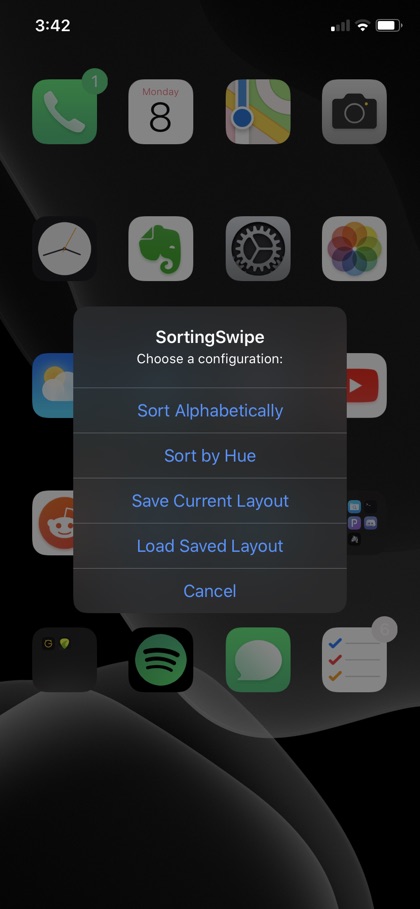 The newly released SortingSwipe tweak for jailbroken devices makes sorting app icons on the home screen easy with the help of a swipe. By swiping up on the home screen users can access a sorting menu, which gives them multiple options on how they can sort home screen icons.
On the desktop we are accustomed to the icon sorting feature that allows us to sort icons by name, type, size and more. iOS does not have a native sorting feature for the home screen icons, which makes arranging them a little difficult for the users.
SortingSwipe tweak allows users to easily sort home screen icons alphabetically or by Hue. The tweak can also save the current custom layout of your home screen and restore it at a later time.
When sorting icons alphabetically your device's app icons will appear in the A to Z order. Whereas the Hue option will let you arrange them by their icon's dominant color. For example, when icons are sorted by hue all green icons will be placed next to each other while all blue icons will be sorted together.
The tweak does not have any options to configure and requires the user to move an icon after respringing the device in order to reactivate the last configuration.
You can download the SortingSwipe tweak from developer's repository (https://usrlightmann.github.io) where it is available as a free download. It works with iOS 11 all the way up to iOS 14 or later.
More Cydia Tweaks: