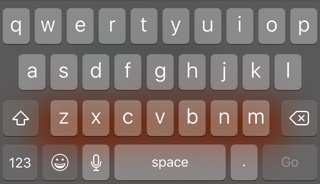 If you are not a fan of iOS's built-in keyboard trackpad feature and want to get the functionality of SwipeSelection on your iOS 14 device, then Marker tweak for jailbroken devices is for you.
Long time jailbreak users would remember the popular SwipeSelection tweak, which made it easier for users to move typing cursor and select text even before Apple introduced the keyboard trackpad feature in iOS. Marker is a modern alternative for SwipeSelection and works with iOS 14.
With Marker tweak you can easily move the cursor and select text on iOS. You can quickly perform these actions by simply moving your finger on the screen with left and right swipes.
After installing Marker users can activate it with two methods that includes swiping in from keyboard's edges and swiping inside the keyboard.
There are two different gestures that let users perform different actions on the text.
Moving cursor: In order to move the typing cursor users can swipe left or right on the upper part of the keyboard.
Selecting text: In order to select text users can swipe at the lower part of the keyboard. This can be customized in tweak's settings.
In tweak's settings users can control the speed of the cursor. In addition to that they can also control the Activation Distance, which determines how much the user needs to move the finger for Marker to activate its movement and selection gestures.
Features of Marker include support for Slide to Type feature and the SwipeExtenderX tweak. For Slide to Type 'From Keyboard Edges' activation method is required. It also supports all other keyboard swipe tweaks that are available on iOS 14.
You can download the Marker tweak from developer's repo (https://miro92.com/repo/) where it is available as a free download.