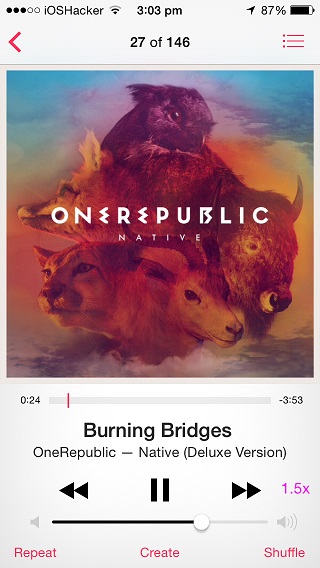 A new tweak called SpeedChanger makes it possible for users to change the playback speed of the now playing song right from the stock Music app. The tweak lets users to increase the speed of the playback ranging from 0.5x to 2.0x variations. Using SpeedChanger is very simple as it integrates within the Music app. From the now playing screen you can tap the speed icon to increase or decrease the playback speed of the song.
While changing playback speed of songs isn't something you would want to do, this hack can be useful for times when you are listening to an audio book, show or a podcast from the Music app. This feature is available in several other third party apps and now you can have it on the stock iOS Music app as well if you like. With SpeedChanger you get the option to play music at 0.5x, 1x, 1.25x, 1.5x and 2.0x speeds.
When you change the speed you have to either play the song again from the list or press the rewind button for the change to take effect.
The tweak works on both iOS 7 and iOS 8 (tested) powered devices. You can download it from Cydia's BigBoss repo right now for free.