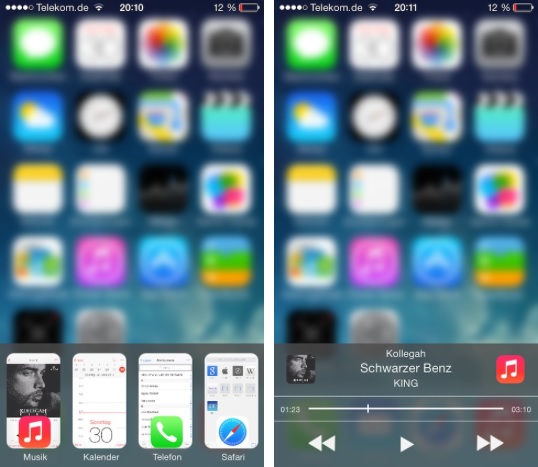 Yesterday Auxo 2 for iOS 7 was released in Cydia, which merges the experience of App Switcher and Control Center on a single screen. If you are not a fan of the new look of the tweak and still prefer the look that was found in the iOS 6 version then try Switchr for iPhone tweak from Cydia. This new hack also focuses on changing the way app switcher looks and works however it is heavily inspired by the original version of Auxo and iOS 6's app switcher.
Switchr for iPhone tweak allows users to switch from one app to another, access media controls, change brightness of the display and access toggles for different system settings. On iPhone 5s this tweak features support for the Touch ID, enabling users to bring up the Switchr by double tapping on the home button. Users can adjust the recognition speed from Settings. When Switchr appears it adds a blurry effect on rest of the screen that looks pretty good.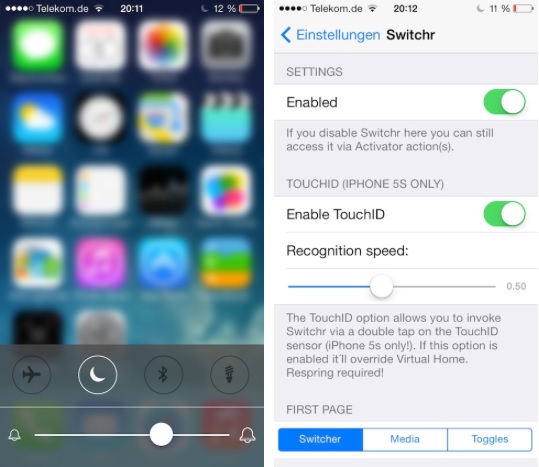 From the preference page you get to choose which page you want to be on the First page of the Switchr. The whole Switchr experience is divided into three sections that can be accessed by simple swiping. There's one separate page for media controls, one page for toggles and brightness slider while the first page shows the currently running applications.
You can download the Switchr for iPhone tweak from Cydia for $2. It is available under the BigBoss repo.
Don't like Auxo 2 or Switchr for iPhone? Then try GridSwitcher.