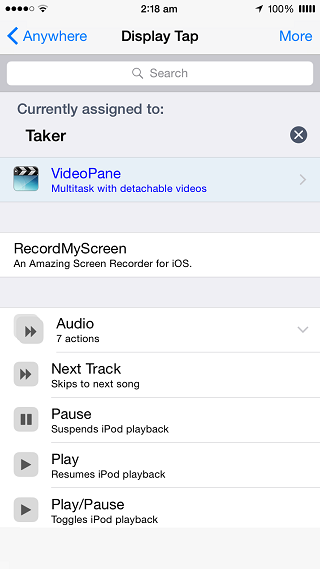 If you have ever wanted to take photos with your iPhone's camera without actually launching the Camera application then you are in luck as a new Cydia tweak called Taker is here to help. Taker tweak integrates with Ryan Petrich's popular Activator, allowing users to select volume buttons in order to secretly take still photos. The best thing about this tweak is that you don't have to open the Camera application, as it takes the shot right when you perform the assigned volume button action.
The photos taken with the help of this tweak are as normal as the ones taken from within the app, which means they are stored in the Photos app ready to be edited, shared or being deleted. Since you can already take photos with the upper volume button when using the Camera application, this tweak is simply an extension of that feature.
While Taker is functional and useful the tweak is not free from bugs. You can select different actions related to volume buttons from Activator, however it appears that no matter what you do with volume buttons the tweak takes the photos. Making things worst is the fact that you can change the volume of your device by pressing the buttons anymore. Also, the tweak saves more than one shots at a time (two in most cases). We are not sure whether that's a bug or a feature.
After installing the tweak you have to go to Activator settings and assign the volume button action to 'Taker'. Apart from volume button actions you cannot assign any gesture or action to this tweak.
We like the idea behind the Taker tweak, however we would not recommend you downloading it until the bugs are fixed. If you don't mind losing the actual functionality of the volume buttons then you can go ahead and grab it from Cydia, where it is available for free.