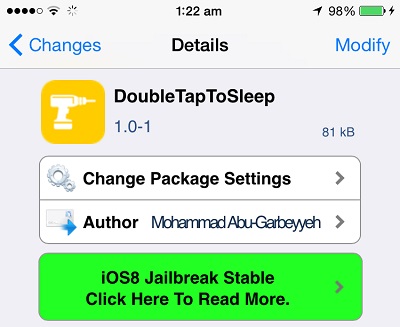 When you are using your iPhone with one hand putting it to sleep by pressing the lock button can be hard. This is especially true for older models that have the button located on the top as opposed to iPhone 6 that has this button on the side. Same is true for iPads as reaching out the top section of the device isn't always a convenient thing to do. To solve this problem a new Cydia tweak called DoubleTapToSleep has been released. As its name suggests this hack allows users to put their device to sleep (or lock it) by tapping twice on their screen.
DoubleTapToSleep only works on the homescreen and the lockscreen. Which means you can double tap in any app without worrying about your device getting locked when you are playing a game or trying to zoom on an image with one finger. In our tests the tweak performed as intended on the homescreen, however there were issues when we tried to lock our device from the lockscreen. When you tap on the lockscreen twice it seems like the device shows the animation for incomplete slide to unlock gesture instead of getting locked, which should be the behavior after installing this hack.
While this is true for the middle section of the lockscreen, if you tap on the upper half or the lower half the tweak worked most of the time. We hope the developer will look into this issue.
You can get DoubleTapToSleep tweak from Cydia for free, where it is available under BigBoss. It works on all devices including iPhone, iPad and iPod touch.