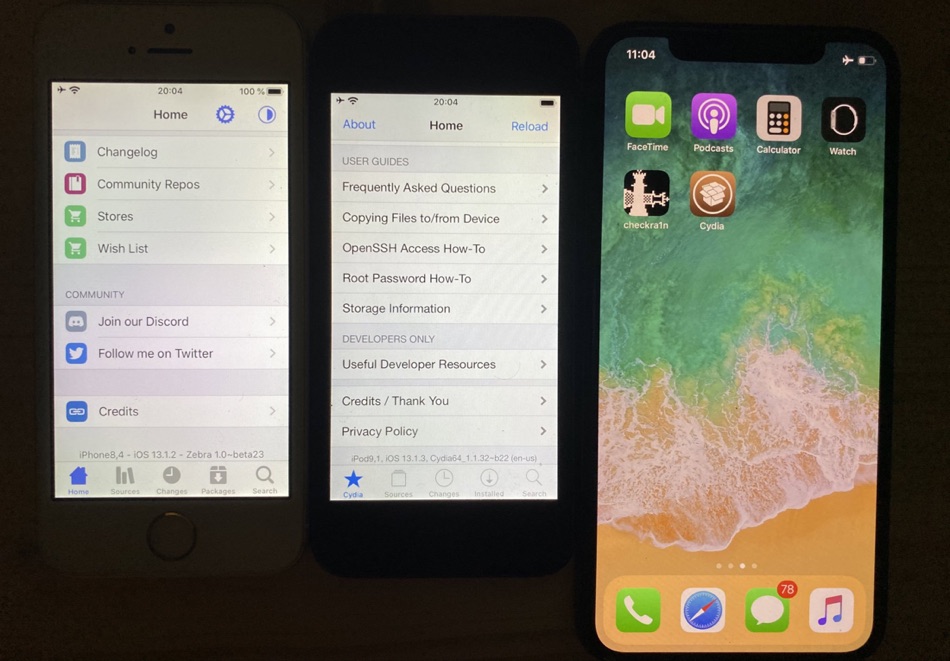 Ever since the release of checkm8 bootrom exploit we have been seeing teasers for checkra1n utility, which is basically a iOS 13 jailbreak tool based on checkm8 exploit. A few weeks ago team checkra1n, which includes well known iOS hacker Luca Todesco teased their tool by releasing images of checkra1n app's icon on an iPhone. During the same time Todesco tweeted that he is happy with the progress being made with the development of the checkra1n tool.
Today team checkra1n is back at it again, as they have released a new image that is showcasing Cydia running on iOS 13.1.3. The teaser did not stop at Cydia only, as it also shows Zebra package manager, which is a Cydia alternative running on iOS 13.1.2.
On the third device in the image, which is presumably an iPhone X the hackers have shown both checkra1n and Cydia icons on the home screen.
The fact that team checkra1n has shown jailbreak package managers running on different versions of iOS 13 is exciting, however not surprising at all. This is because checkm8 is an hardware based bootrom exploit that is not dependent on any iOS version.
What makes this exploit so powerful is that it cannot be closed by Apple with a software update and will work on all iOS versions that Apple will release in the future, essentially providing jailbreak for life for supported devices. checkm8 exploit is found in A5 to A11 devices, which includes the modern iPhone X. Unfortunately that is where the compatibility stops, as checkm8 vulnerability has been fixed in iPhone XS or later, and is also not found on the new iPhone 11 devices.
We will update you with more information as team checkra1n releases it. With the development going smooth we expect iOS 13 jailbreak to get released sooner than later.
Disclosure: iOSHacker may receive a commission if you purchase products through our affiliate links. For more visit our privacy policy page.