Are you still jailbroken? If you are, then we have got some really nice tweaks that you can download from Cydia. With these powerful hacks you can add new features to iOS and have that most wanted feature you have been waiting for Apple to add in iOS for years. Read on to learn about 3DAppLock, Copic 2, Talus and SnakeBite 2 in our tweak roundup for this week.
3DAppLock
Privacy is a big concern for iOS users who have to share their iOS devices with others. Sure you can put a passcode or fingerprint lock on the device, but there's no protection once you unlock your iPhone and hand it over to someone else. And we have all got friends who wouldn't stop asking for our devices when their own phone runs out of battery. 3DAppLock brings an easy solution by allowing you to put a Touch ID lock on any app by simply force tapping on it. From the app's 3D Touch menu you can lock it, and then to unlock it you have to scan your fingerprint.
While 3DAppLock works naturally on iPhone 6s, older device users can use hacks like RevealMenu to enable 3D Touch gestures and then use 3DAppLock. Users can also enter password to unlock the app. Once an app is locked, it can only be unlocked with fingerprint scan or entering the password, and cannot be accessed through Spotlight, Siri or any other means. You can download 3DAppLock tweak from Cydia for $1.49.
Copic 2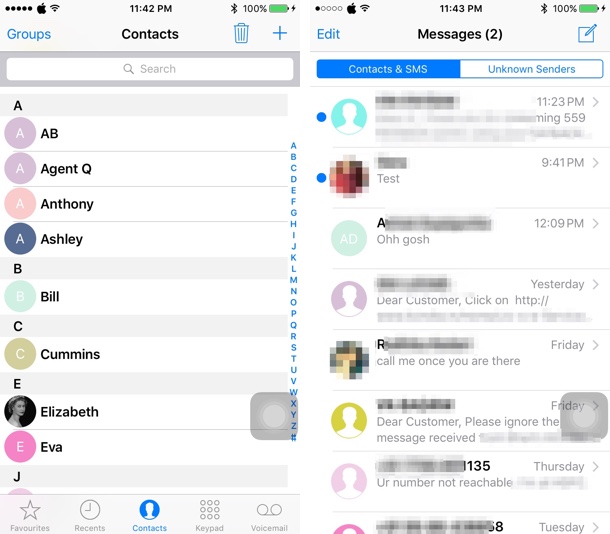 Copic 2 tweak adds contact photos for your contact list everywhere on iOS. This means you will see contact photos with those accounts that have display pictures on Contacts list page, FaceTime page, Messages app, Phone apps and even Mail. The tweak also shows contact photos on the Lockscreen and the Notification Center. Those accounts that don't have contact photos will either display alphabets or placeholder images of different colors. Copic 2 also works with WhatsApp and the Recents 2 tweak. You can download Copic 2 from Cydia for free.
Talus
Talus is a shortcut widget that lets you perform different tasks with ease using gestures and buttons. With Talus you can quickly create notes, search on Google, launch compose screen for Messages, Twitter etc, control music, adjust brightness and volume and much more. It also features those respring and reboot buttons too. You can download Talus from Cydia for $1.99.
SnakeBite 2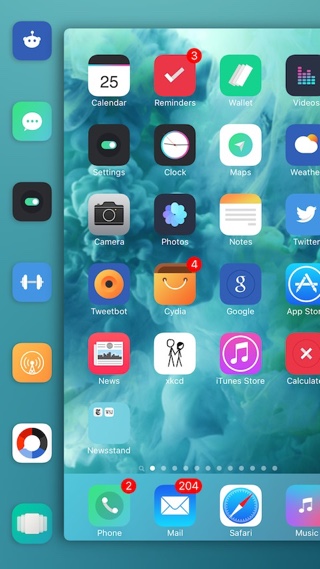 We have covered SnakeBite before and now that it has received an update we thought we would mention it again for those who didn't read our previous coverage of it. Snakebite 2 builds on the original version and adds new features like Live Previews, that allow users to see what's going in their apps. SnakeBite 2 is basically an app launcher that can be accessed with 3D Touch. You can have your favorite or recently opened apps in the sidebar and access them quickly from anywhere. Snakebite 2 is available for $1.49 in Cydia.
Disclosure: iOSHacker may receive a commission if you purchase products through our affiliate links. For more visit our privacy policy page.