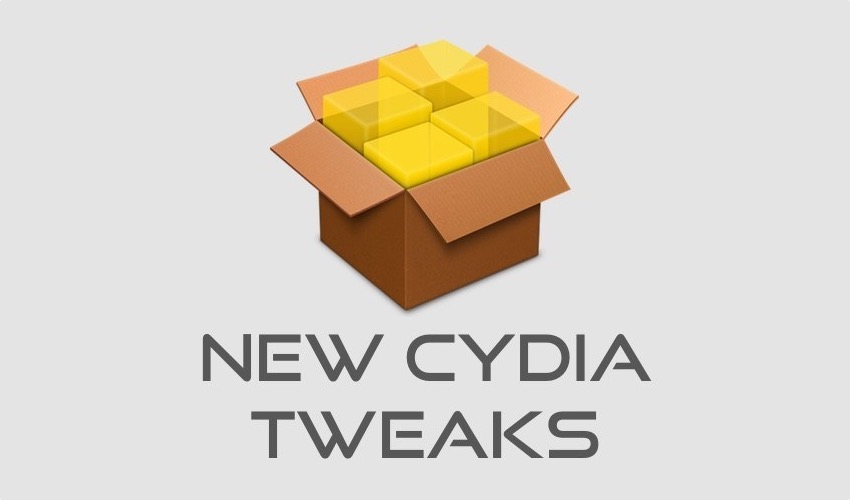 If you haven't been following the jailbreak news lately, then you are up for a big surprise. And no we are not talking about the epic Checkm8 exploit news that will give us lifetime jailbreaks for iPhone X or lower. We are talking about the awesome new iOS 12 tweaks that have been released for jailbroken devices over the past week or so.
Here you will learn about some of the greatest new tweaks including SmartBattery, Rosé, ModernBarz, Nord, Spotaptic, Mowgli and BlurryPaper. Read on to learn what these hacks do and how you can download them on your devices.
SmartBattery Tweak: Make iPhone Battery Smarter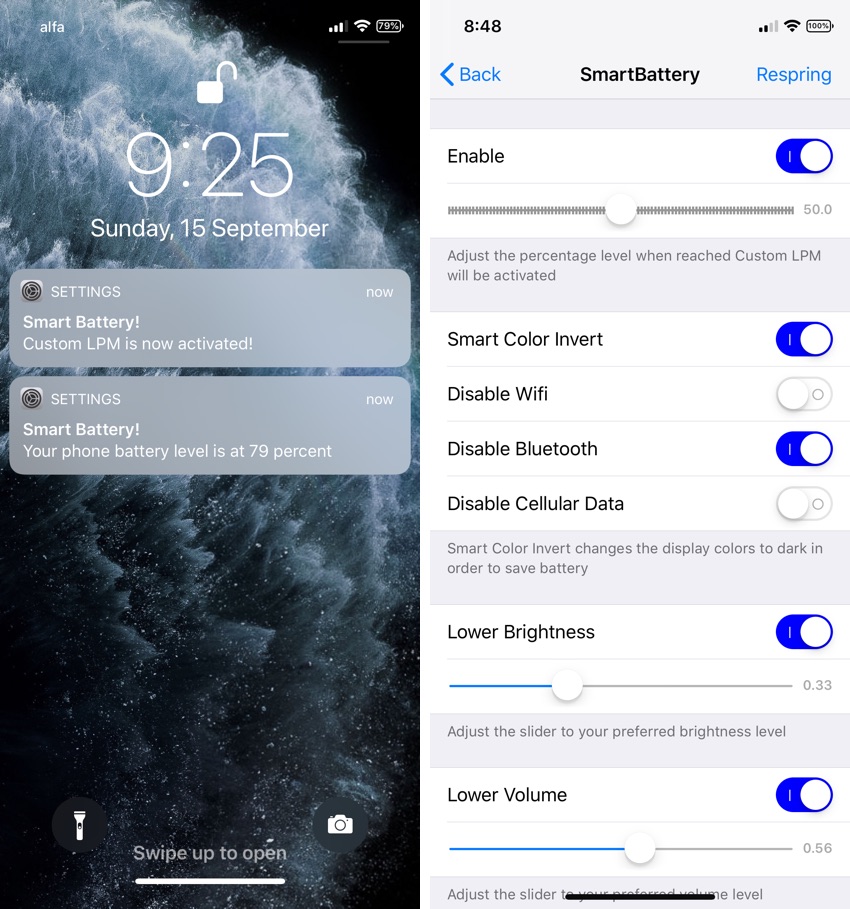 SmartBattery tweak makes your iPhone even more smart by making it perform certain actions when its battery reaches a certain level. For example, you can have your iPhone enable the Low Power Mode as soon as it reaches your desired battery level. You can also make your iPhone send you a push notification to notify you that it has crossed a certain battery level. The tweak even offers voice based notifications so your iPhone will announce its current battery level with voice. This is great for situations when your device is on its charger as you will know when it has reached 100%.
Other features of the SmartBattery tweak include ability to disable Wi-Fi at a certain battery level, disable Bluetooth, disable Cellular Data, disable Location Services, automatically lower screen brightness and volume etc. You can download SmartBattery tweak from the Packix repo where it costs $1.99. It works with iOS 12.4.
Rosé Tweak: Add Vibration Effect To More Actions
Rosé tweak adds new vibration features to the iPhone and vibrates the device in places and during actions that are not supported officially. For instance after installing the Rosé tweak you can have your iPhone vibrate when you lock it, unlock it, change the volume, respring, access power down menu, when killing an app from the App Switcher, while performing a 3D Touch action, vibrate on wake and vibrate when you plug in or remove the iPhone's charger.
This is a must have tweak for those who like the vibration feature of their iPhone. You can download the Rosé tweak from Cydia or Sileo through the Packix repository. It is available as a free download and works with iOS 11 or later.
ModernBarz Tweak: Colorize Status Bar Items And Add Custom Characters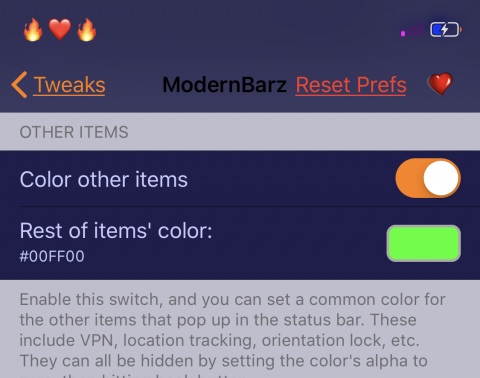 ModernBarz tweak changes the way status bar looks on the by allowing users to change the colors of the battery indicator, cellular signals, time and more. Users get the ability to choose any color of their choice from a color picker, and can even add a different color to status bar items that appear on the Control Center screen such as VPN, Battery Percentage and more.
Perhaps the best feature of the ModernBarz tweak is that it allows users to add custom text and emoji to the status bar, giving the the opportunity to personalize it according to their liking. You can download the ModernBarz tweak from the YouRepo where it is available for $0.95.
Nord Tweak: Customize the look and feel for WhatsApp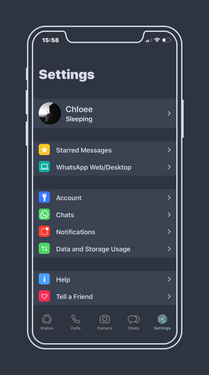 With Nord tweak you can make changes to the WhatsApp app to personalize it according to your taste. With Nord you can change the background colors of the WhatsApp app, customize text color, add tint colors and change the color of chat bubbles. Nord is a free tweak that is available through the Dynastic repo.
Spotaptic Tweak: Add Haptic Feedback To Spotify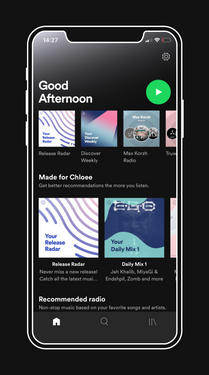 Spotaptic tweak for Spotify allows users to add haptic feedback to various actions within the music streaming app. With Spotaptic you can add haptic feedback to play, previous track, next track, repeat, shuffle, queue, heart, slider, song name button and devices available button. You can download this tweak for free from the Dynastic repo.
Mowgli Tweak: Add Dynamic Icons To The Home Screen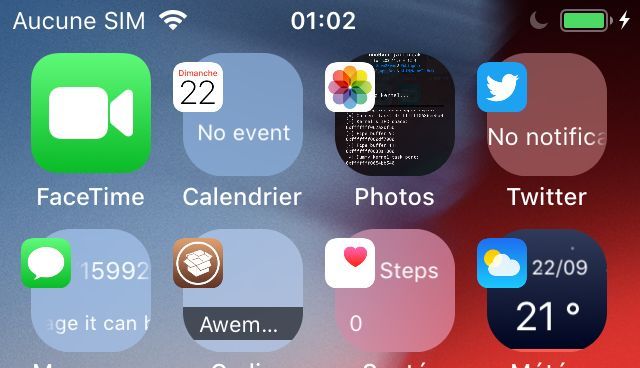 Mowgli tweak makes app icons more useful by displaying useful information from within the app right on that app's icon. The app kind of brings dynamic icons to the home screen. The tweak displays different information in different apps, for example on Calendar app you will see the day's events while Photos app will show the slideshow of your photos.
Similarly Weather app will show the current temperature, Messages app will show you the last received or sent message, Health app will show current steps, Music app will show the currently playing song's cover and more.
Mowgli needs to be activated from the Control Center shortcut. You can download the fun and useful Mowgli tweak from the Packix repo for $0.99.
BlurryPaper Tweak: Add Blur Effect Over Any Wallpaper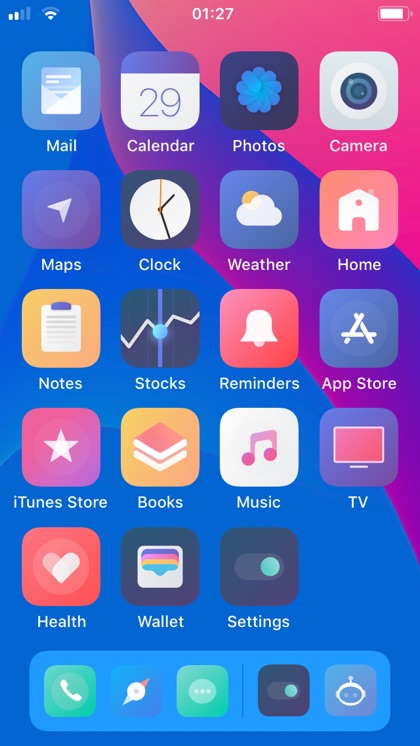 BlurryPaper is a simple tweak that adds blur effect over any wallpaper of your choice. The tweak is capable of adding 3 kinds of blurs over the wallpapers including Normal, Light and Dark. You can download the BlurryPaper tweak from the Packix repo where it is available as a free download.
Disclosure: iOSHacker may receive a commission if you purchase products through our affiliate links. For more visit our privacy policy page.