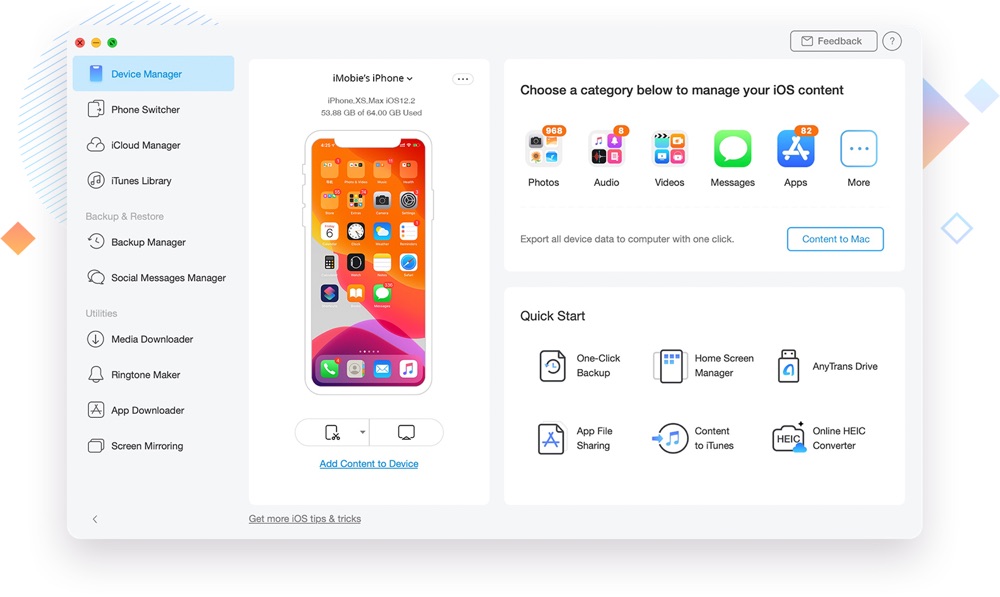 When it comes to managing their iPhone's data, iOS users are torn between using iTunes or rely on more advanced tools such as AnyTrans. If you are not familiar with AnyTrans, it is a powerful iPhone manager that allows users to perform useful actions like transferring from one iPhone to another, creating and restoring iTunes and iCloud backups and access contents of backups.
Other handy features of the AnyTrans include ability to manage apps, advance photo management features, backup and restore for messaging apps, turning an iOS device into a USB storage device, contacts list management, iPhone transfers, media downloaders, screen mirroring and much more.
Recently AnyTrans 8 update was released for the AnyTrans tool, which brings a range of new features and design to it. AnyTrans 8 has a new user-interface that is way more intuitive to use and makes it even easier for users to find what they are looking for.
However AnyTrans 8's new features are not limited to visual changes only, as it also introduces a new Screen Mirroring features that allows users to mirror their iPhone's screen on their computer and record it. This is great for creating tutorial videos. The new update also adds speed improvements for loading and transferring data, which will improve the experience of using the tool.
Perhaps the biggest and most important change introduced in AnyTrans 8 is the new Phone Switcher feature, and this feature could not have been added at a better time. With Phone Switcher tool you can easily transfer from your old iPhone to new iPhone 11 in just a few clicks. This tool also allows Android users to transfer their data to iPhone 11 with flexibility and ease.
How To Transfer Data From Old iPhone to iPhone 11 Using AnyTrans 8
As we have already mentioned AnyTrans 8's Phone Switch feature is incredibly easy to use. You can use it to transfer your whole data or selectively transfer data that is useful to you. Here's how you can use this feature.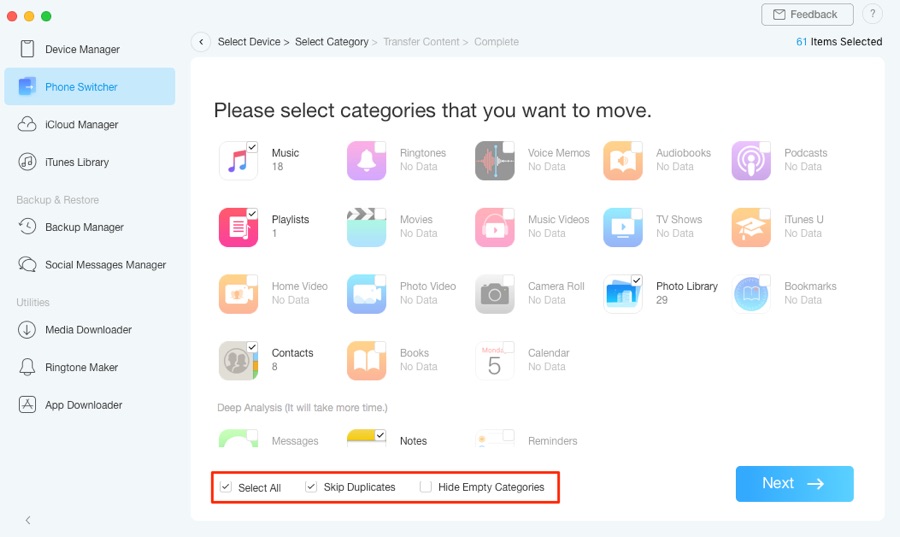 Connect your old iPhone and new iPhone to your computer using USB cables and launch AnyTrans 8.
Choose Phone Switcher from side pane and then click on Phone to iPhone option.
Now from the first drop down menu choose the source device (the one you want to transfer data from) and from the second drop down menu choose the target device (the device you want to transfer data to). Finally hit the 'Next' button.
Click to select all the categories of data that you want to transfer between the connected devices and hit the Next button.
At this point AnyTrans 8 will start transferring data between your old and new iPhones. You can find the detailed step by step guide on how to use AnyTrans 8 to transfer data between old and new iPhones here.
AnyTrans 8 can also be used to creating fresh iOS backups. When you create new backups with AnyTrans all of your data is stored safely. In addition to backing up all sorts of data that is stored in an iTunes Backup, AnyTrans 8 goes even further and also backs up 10 more types of files that includes synced photos, ringtones, music and more. Speaking of ringtones the tool also has a built-in Ringtone maker that enables users to turn their favorite songs into iPhone ringtone.
You can download AnyTrans 8 for your iPhone and use it to transfer from old iPhone to new iPhone 11 from their official website. It comes with a free trial for both Mac and Windows. If you like the tool after testing the free trial, then you can also buy a full 1-year subscription for $39.99.
Disclosure: iOSHacker may receive a commission if you purchase products through our affiliate links. For more visit our privacy policy page.