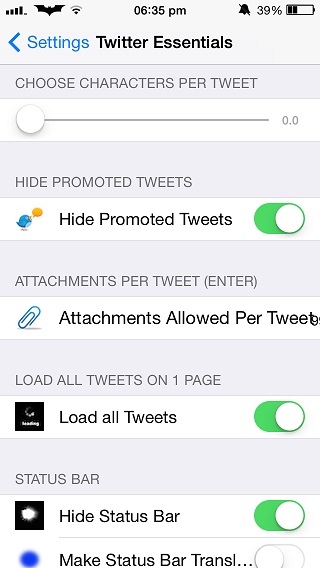 A new Cydia tweak called Twitter Essentials allows users to make useful changes to the official Twitter app. With this hack you can change certain aspects of the popular application and fix some of its biggest annoyances. By installing Twitter Essentials you can choose the characters per tweet, hide promoted tweets among other things. Using a simple slider in tweak's preferences you can increase or decrease the characters allowed per tweet.
You also get to disable the promoted tweets, which are advertisements by simply turning on a toggle. Twitter Essentials also allows users to set number of attachments that can be added to a tweet.
That's not all as there are several other features in this tweak that will be appreciated by Twitter for iOS users. It also brings the ability to load all tweets in one page, so you don't have to tap on 'Load more tweets' button again and again. You can also hide the status bar, which makes the app take full advantage of the iPhone's screen real estate. Another cool feature of the app is that it can be used to turn the status bar translucent.
You can download Twitter Essentials tweak from Cydia for free. It is available under the BigBoss repo.