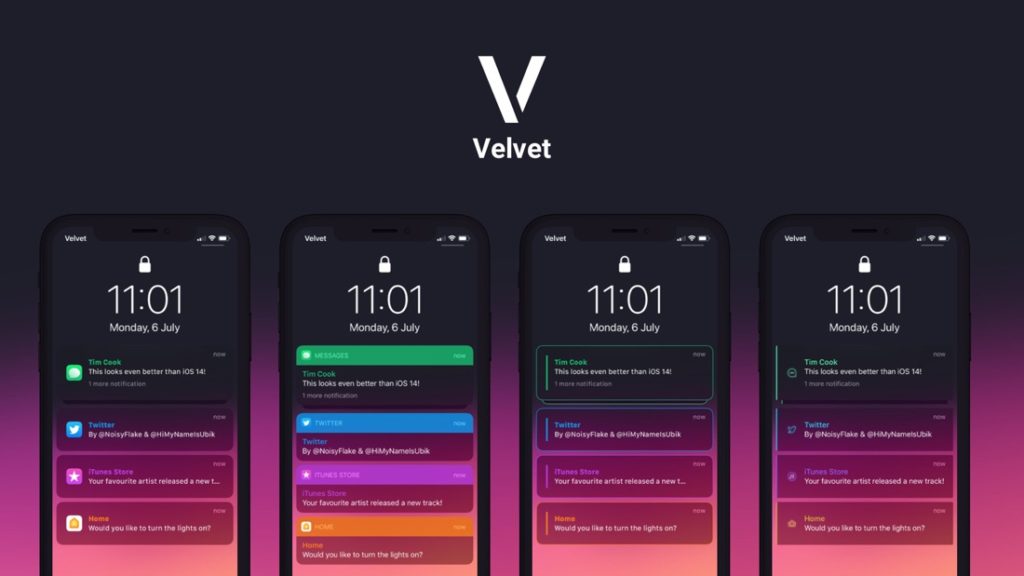 Notification banners are an important part of the iOS UI because they are everywhere. You see them on your Lockscreen, Notification Center, when using apps and more. There are many potent tweaks that allow users to customize the look and feel of iOS notification alerts. Grupi, Dots 2, Blanca are some of the examples.
The newly released Velvet tweak also brings amazing notification customization features to jailbroken devices, giving users the opportunity to completely change the way notifications look on their devices.
The best thing about Velvet tweak is that it is highly customizable and gives users ability to individually customize banners that appear on each screen. So you can choose to have a different look for the lock screen banner while have a totally different appearance for banners that show up on other pages. In addition to banners you can also customize lock screen's media player and apply your favorite customizations to it.
On a basic level Velvet offers two different appearances to the user. The first approach dubbed as 'modern' will remove the notification banner's header all together in order to achieve a minimalistic look.
The classic iOS appearance keeps the header but allows users to customize it according to to his or her liking.
With this tweak you can make changes to the banner appearance by applying customizations to indicator, background, labels, borders and more. All of these customization options are available on both modern and classic styles.
You can download the Velvet tweak from the Chariz repo where it is available for $2.99.
Disclosure: iOSHacker may receive a commission if you purchase products through our affiliate links. For more visit our privacy policy page.