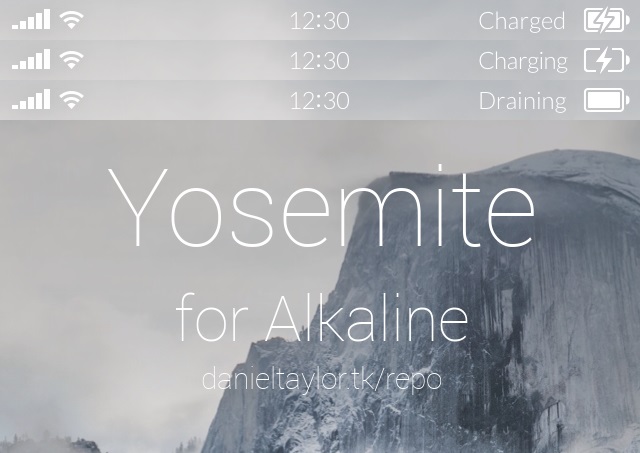 Ever since the release of OS X Yosemite we have wanted to get the Mac's battery indicator on our iOS devices. The reason being it is more simple and better looking to iOS 8's default one. A new alkaline theme by Daniel Taylor fulfills that wish by bringing the OS X inspired battery indicator to iPhone. Yosemite for Alkaline is a theme for battery sign that needs to be applied through the Alkaline tweak. For those of you who don't know Alkaline is a WinterBoard like tool, which allows users to download and apply themes on their device's battery sign.
Yosemite for Alkaline has three separate modes that appear when the device is charging, fully charged or is running on the battery. After downloading this theme all you have to do is head to Alkaline's preferences from Settings and apply it. Of course, you will also need the Alkaline tweak, which is available for free in Cydia.
Yosemite for Alkaline is not available in any of Cydia's default repositories, so in order to get it you will have to add developer's private repo to your device. To do so simply go to Cydia > Sources > Edit > Add and type in danieltaylor.tk/repo. You can get it for free.
Also read: Add Macbook like battery indicator to iOS 7 with MacBattery theme for Alkaline