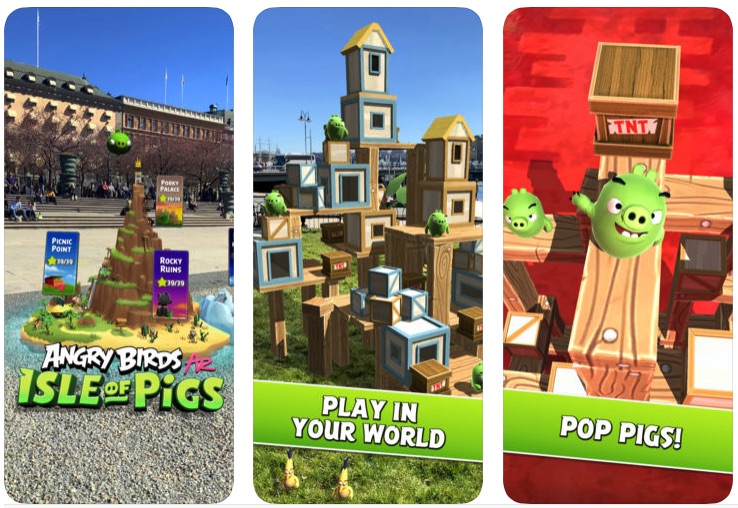 No matter how much Tim Cook has been pushing Augmented Reality as the next big thing in mobile technology, almost 2 years after the launch of ARKit we have yet to see its true potential on mobile devices. Sure there are many clever AR apps including Apple's own Measure app that take advantage of iOS's AR capabilities however general response from developers and more importantly from users has been lukewarm.
That may change if more games like the Angry Birds AR: Isle of Pigs are released on the iOS platform. I have played this game, which is a modern take on the classic Angry Birds game everyone used to love years ago and got hooked instantly. Angry Birds AR is very well made and offers a unique gameplay experience to the user. While the game fully adapts to the AR technology it does so by still looking like an Angry Birds game, which is a feat in itself.
After downloading it you can launch the game and then find a flat surface that can be used as your playground. As is typical with any AR app on iOS. Once the surface has been scanned you will be able to interact with the game's menu. If you have ever played an Angry Birds game before, you will feel right at home with the overall vibe of the game. The biggest difference in gameplay is that you will get a POV shot from behind the catapult instead of a sideways view of the original 2D game. Rest of it feels the same complete with hilariously weird pig castles, TNT boxes and birds with unique abilities. You can adjust the direction of your shot by moving the iPhone and once you have the perfect shot pull back on the catapult to launch your bird.
While you can play the game while sitting, you can unlock a whole new dynamic by walking around the castles, revealing pigs and other stuff not visible from one side.
To me games like Angry Birds AR show what potential lies with Augmented Reality based games on iPhone and iPad and how other games developers can take advantage of the technology by thinking outside the box.
If you haven't already, we recommend that you try the Angry Birds AR: Isle of Pigs for yourself to see how it works. It is available for free.