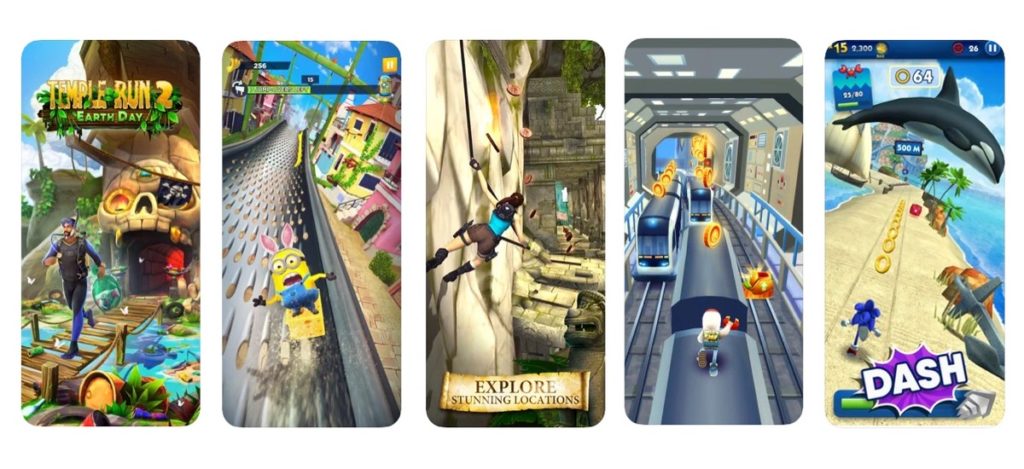 If you're bored of playing mobile games having limited playing time, think about playing the best endless runner games on your iPhone. These awesome and free games bring endless fun to your fingertips.
I understand with unlimited quarantine days and months, it is normal to get bored of playing the same games over and over. So, in order to end your search for an endless fun time, here are a few best free iPad and iPhone games for you. 
The best part? These games give you easy yet super control with ease and fun-filled sounds. As their names suggest, these are truly 'Endless' till you die ;).
Best Endless Runner 2021 Games for iPhone and iPad
Here are the best endless runner games for iPhone in 2021 that you should start playing right now. All of these games are available for free in the App Store with optional in-app purchases.
1. Temple Run 2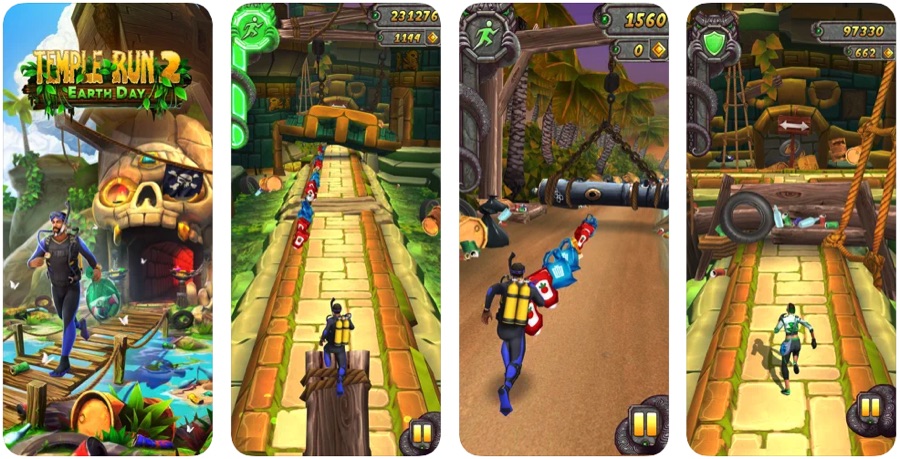 Temple Run 2 is the sequel of Temple Run that got nearly every game-lover by storm! It would not be wrong if we say Temple Run change the world of mobile gaming. Now, Temple Run 2 had added more adventure, excitement, running, jumping, and sliding to it. In this best endless runner 2021, you would navigate the mines, dangerous cliffs, and zip lines while escaping with the cursed idol. An adventure that you would never want to end!
Game Features:
Temple Run 2 has improved and new graphics.
There are new organic environments
All new obstacles to cross
Higher level of achievements
You will get a bigger monkey and special powers for every character
You will collect litter and clean pirate cove
Earth Day themes
You can download Temple Run 2 from the App Store for free here.
2. Minion Rush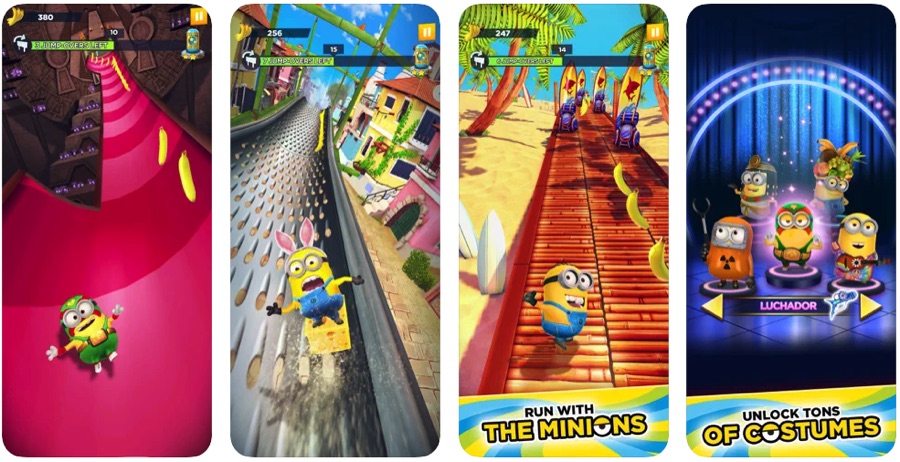 Here is something exciting for Minion-lovers. You can join them as they ditch obstacles, run, roll and jump. This one of the best running games have grabbed the attention of millions of players. So why not feel the Minion Rush and get addicted to endless running fun?
This fun runner game will put your skills to the test. Run along with Minions and make your way through the obstacles and explore the famous world of Minions.
Game Features:
This best endless runner 2021 is an action-packed adventure with unexpected turns and twists on way. 
The race challenge is fun in itself where you need to Collect Costumes and run! 
Feeling the rush is a must- you will find new targets every day!
This one of the best free iPhone games does not limit your fun given your age or gender. 
Minion Rush brings easy-to-play controls and endless running, jumping, swiping, and rolling. 
Make your adventurous chase through a temple, malls, cities, and beaches. High-quality graphics ensure a great user experience that keeps you coming back. 
Pick an awesome dress for your Minion from the costume collection. Be it a Spy, Surfer, Cupid, Ballerina, or Cancan Dancer, each costume variety will make it difficult for you to decide. 
You can download Minion Rush from the App Store for free here.
3. Lara Croft: Relic Run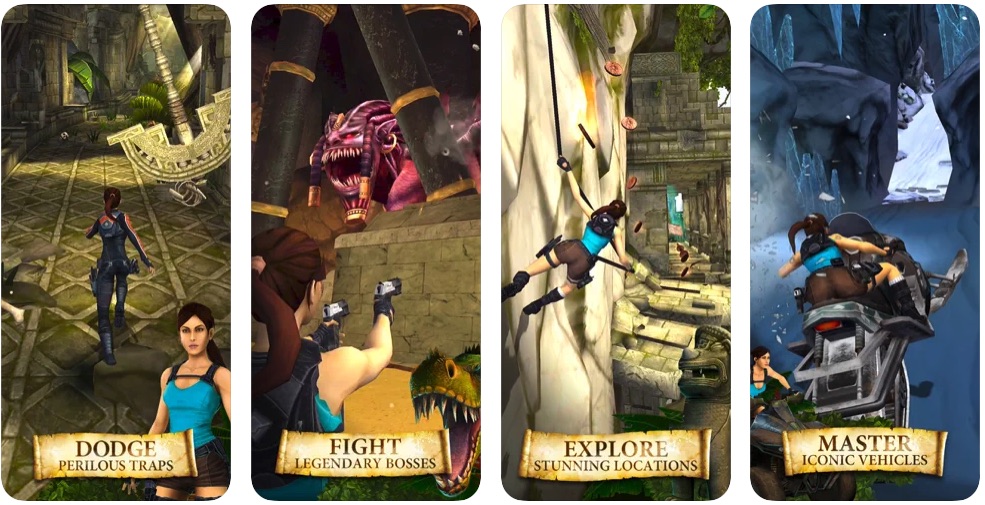 Lara Croft is another one of the best endless runner games in our today's list. Be brave just like Lara and run, dive, swing, and drive your way through a dangerous environment just like Lara. There are ancient relics to explore that help you solve the mystery of shadowy conspiracy threatening the world.
Game Features:
You can discover incredible locations in the jungle, mountains, or deserts with danger at every step.
With the help of signature parkour moves, make death-defying escapes.
For swift movement, drive fast-moving vehicles like motorbikes and ATVs and conquer the terrain multiple ways.
Up your power game with an arsenal of weapons, as well as employ tricks to win Boss Fights.
Don't worry about the outfits, Lara has got a variety of them.
You can also upgrade the equipment to gain an edge over your enemies.
As you run, get bragging rights on the leader board.
You can download Lara Croft: Relic Run from the App Store for free here.
4. Subway Surfers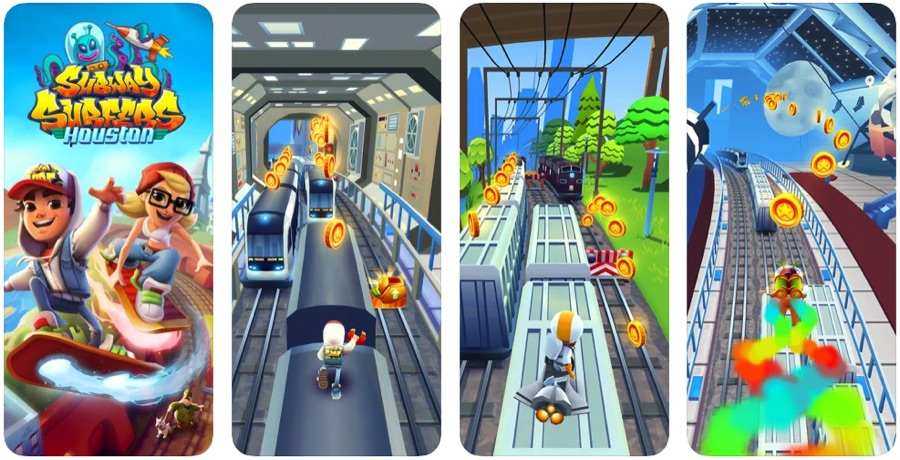 Are you ready to help the characters like Jake and Yutani run the subways and escape from the guard and his dog? This one of the best free iPad games, makes you run and beat the challenges throughout your way. With the help of a number of extra accessories, the escape is made easy and fun.
Game Features:
HD graphics and colorful display.
You can enjoy overboard surfing.
Swipe acrobatics swiftly.
Challenge yourself and help your friends throughout the game.
Compatible with iPhone 4S, iPod5, iPad 2, and latest. Get iOS8 or the latest version.
You can download Subway Surfers from the App Store for free here.
5. Sonic Dash – Endless Running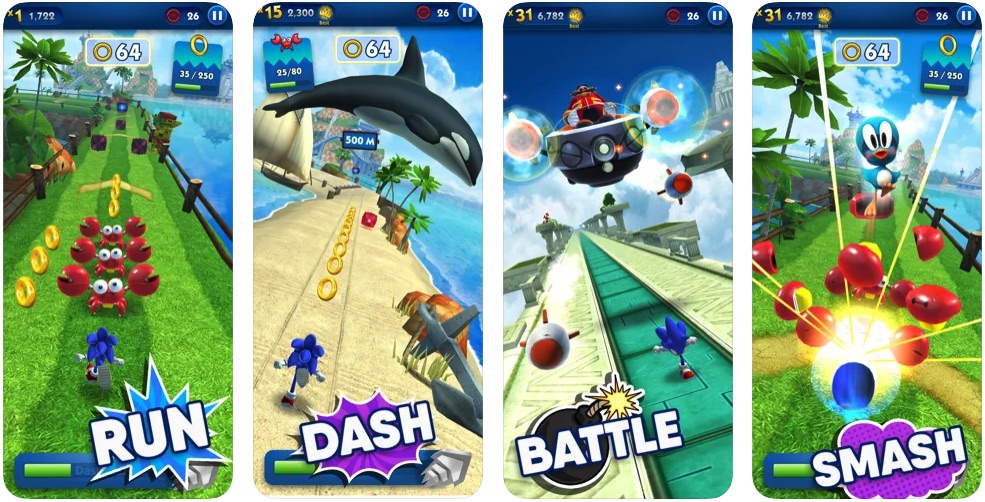 If you liked your childhood cartoon series Sonic the hedgehog, this is one of the best running games you could find. Just see how fast can he run! You as a Sonic the hedgehog jump, dash and spin your way across the challenging obstacles. The endless running saga how far can you go features Sonic the hedgehog with its awesome dahs moves. Simply run at unbelievable speed and perish everything that comes your way.
Game Features:
Sonic has amazing powers to dodge dangers, cross the barriers, and run at an unusual speed. It destroys its enemies super quick.
This one of the best free iPhone games has stunning graphics with incredible attention to detail. The quality display makes the runner look so clear and good.
You have freedom to pick your character; be it Sonic's friends, Shadow, Knuckles or Tails. 
Win or buy power-ups and run even further. As you complete missions and challenges, you get rewards and increase your score. 
You can download Sonic Dash – Endless Running from the App Store for free here.
Do you like our today's list of best endless runners 2021? Which endless runner game you want to play? Share with us in the comments below.
For more iPhone and iPad games, stay tuned to iOSHacker.com.