In this article, we're going to spill the beans on the absolute best puzzle games for iPhone that will have you scratching your head, laughing out loud, and feeling like a puzzle-solving genius in no time. 
Looking to give your brain a workout while having a blast? Get ready for a mind-bending adventure packed with exciting challenges, clever solutions, and endless entertainment.
From classic jigsaw puzzles and intricate riddles to physics-based challenges and addictive gameplay, when it comes to puzzle games, iOS users are in for a treat.
With a vast array of captivating and challenging titles available, you can indulge in hours of brain-teasing fun right at your fingertips.
Whether you're a seasoned puzzle enthusiast or just looking for a fun way to pass the time, these games will take you on a thrilling journey of problem-solving and strategic thinking.
All you need to do is grab your favorite device, put on your thinking cap, and dive into the wild and wonderful world of challenging puzzle games for adults.
Best Brain Games for iPhone
From mind-bending riddles to immersive escape rooms, get ready for an engaging and interactive experience that can sharpen your problem-solving skills, boost your memory, and ignite your creativity.
So, are you ready to embark on an adventure through the world of the best puzzle games for iPhone and iPad? Buckle up, and let's explore our top 10 picks that will keep you hooked and your neurons firing!
1. Jigsaw Puzzles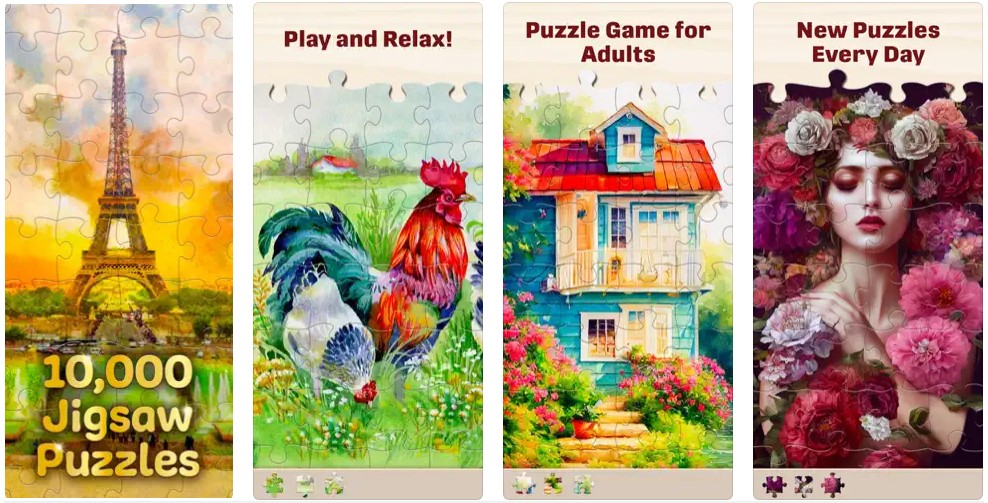 Jigsaw Puzzles is a classic favorite among puzzle enthusiasts and one of the best puzzle games for iPhone. If you enjoy piecing together beautiful images, this is the perfect game for you.
With a collection of 10,000 free puzzles available within the app, users have access to a vast and ever-growing selection. Furthermore, the app boasts a daily influx of new puzzles, guaranteeing an endless array of fresh challenges to captivate and engage gamers. Thus, solidifying its position as one of the best puzzle games for iPad users seeking an immersive and ever-evolving puzzle experience.
The best part? Users can create unique and customized puzzles using their own pictures. Whether it's cherished family photos, adorable pet pictures, or captivating images sourced from the internet, the app empowers users to transform their memories into delightful puzzle experiences.
Download Jigsaw now from the App Store for free here.
2. Puzzledom
Prepare to get addicted to Puzzledom, a game that offers a collection of diverse puzzle types. The collection currently includes four popular puzzle games: Connect, Blocks, Rolling Ball, and Escape, making it one of the best puzzle games for iPhone.
Connect is a simple game where you connect dots of the same color without letting the lines cross over each other. Blocks, on the other hand, challenges you to fill the entire board with different shapes of blocks, making it a perfect logic game for brain training.
As for Rolling Ball, it tests your path-guiding skills as you slide blocks to create a channel for the white ball to reach the endpoint. Finally, Escape, also known as Chinese Sliding-Block, tasks you with moving the red block to the exit, putting your observation skills to the test.
Engage your logical thinking and problem-solving skills as you navigate through this diverse iPad puzzle game universe.
Download Puzzledom now for free here.
3. Slices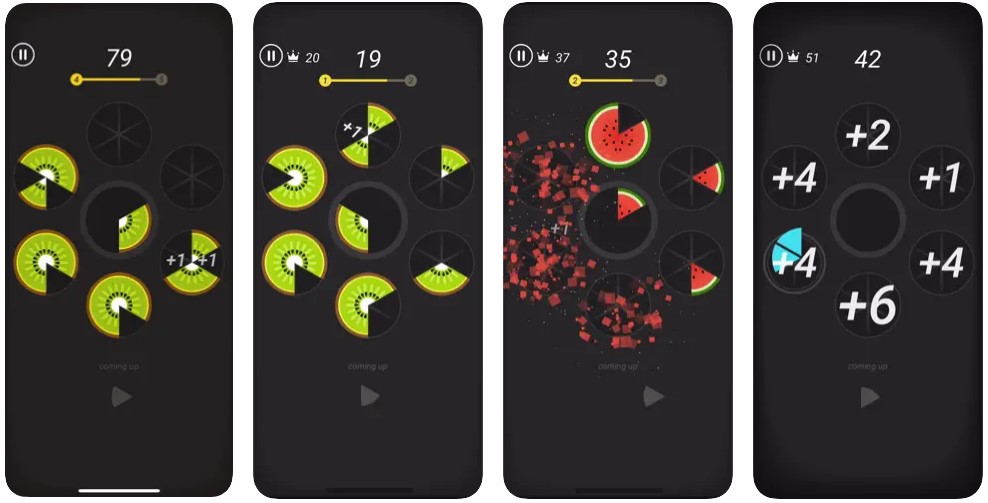 In Slices, you'll need to strategically place fruit slices on a circular board.
Sounds delicious, doesn't it? But beware, as the game becomes progressively trickier, requiring you to plan your moves carefully while testing your spatial awareness and strategic thinking.
The mechanics are intuitive, allowing players of all skill levels to jump right in and start enjoying the game without any complicated instructions or steep learning curves. Whether you're a casual gamer or a seasoned puzzle enthusiast, Slices is the best puzzle game for iPhone that offers an enjoyable gameplay experience.
The game also boasts amazing graphics and a captivating soundtrack, which further contribute to the immersive experience. We find it to be the best brain game for iPhone with a tasty blend of strategy and puzzle-solving that will leave you craving for more.
You can download Slices from the App Store here.
4. Nonogram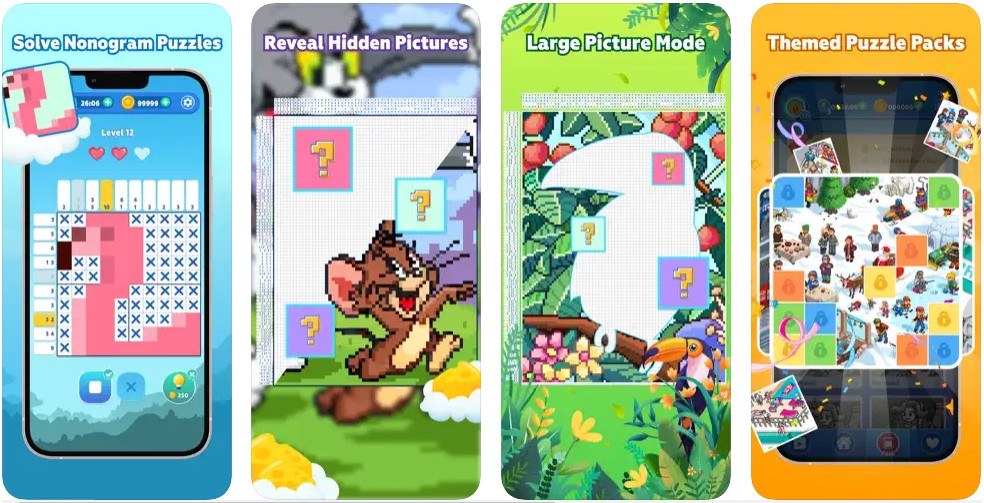 Nonogram is a must-try for fans of logic puzzle games for adults.
Also known as Picross or Griddlers, this game challenges you to fill in the correct squares on a grid using numerical clues. As you conquer each challenge, it sharpens your deductive skills and uncovers beautiful pixel art.
With its intuitive controls and hundreds of puzzles ranging from easy to brain-teasing, Nonogram promises hours of gratifying puzzling pleasure, making it one of the best puzzle games for iPhone.
The game is designed to be easy to learn, ensuring that anyone can pick it up quickly, but it presents a significant challenge to master. Once you start playing, the addictive nature of Nonogram becomes evident, making it difficult to put down.
Download Nonogram – Picture Cross from the App Store for free here.
5. Escape Room: Mystery Word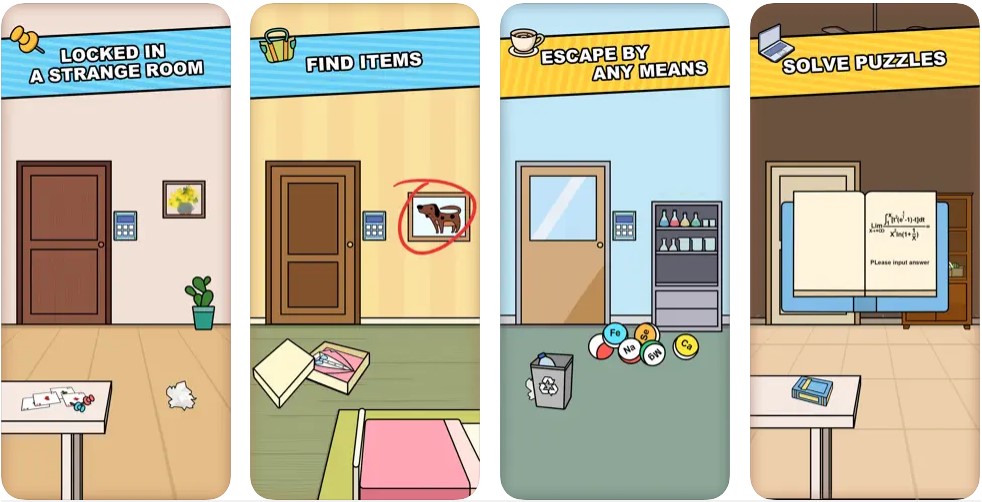 Imagine yourself trapped in a room with only clues and riddles to guide your escape. That's the premise of Escape Room: Mystery Word. Solve puzzles, decipher cryptic messages, and unravel the mystery by guessing the correct word.
It's an immersive experience that will put your detective skills to the test, making it the best puzzle game for iPhone users who enjoy a good brainteaser.
As the game begins, you find yourself locked up in a mysterious room, and your objective is to escape by constantly observing, thinking, guessing, and making inferences. To win each game, all you need to do is type the correct word.
This straightforward gameplay mechanic ensures that players of all levels can enjoy the game without feeling overwhelmed. You can explore and challenge yourself through the 300+ levels, enjoying a stress-free gaming experience with no time limits.
If you love solving mysteries, this challenging puzzle game for adults will provide an immersive and thrilling experience.
Download Escape Room: Mystery Word for free here.
6. 4 Pics 1 Word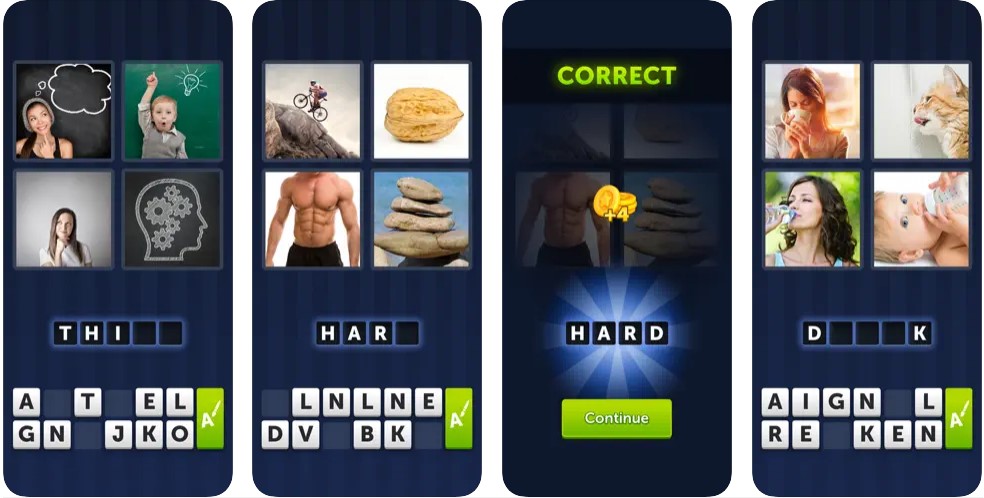 Can you guess the word that connects four seemingly unrelated pictures? That's the challenge presented by 4 Pics 1 Word. With thousands of puzzles available, this game will keep you engaged while expanding your vocabulary and lateral thinking skills.
This is how it works. You are presented with four pictures, and it's your task to identify the common word that ties them all together.
This engaging mechanic of this puzzle game for students keeps players hooked as they strive to solve each puzzle and progress further in the game. The challenge lies in deciphering the connection between seemingly unrelated images.
One of the best puzzle games for iPhone, it will keep you entertained for hours on end without the need for registration or complicated rules.
Download 4 Pics 1 Word from the App Store here.
7. Logo Quiz: Guess the logos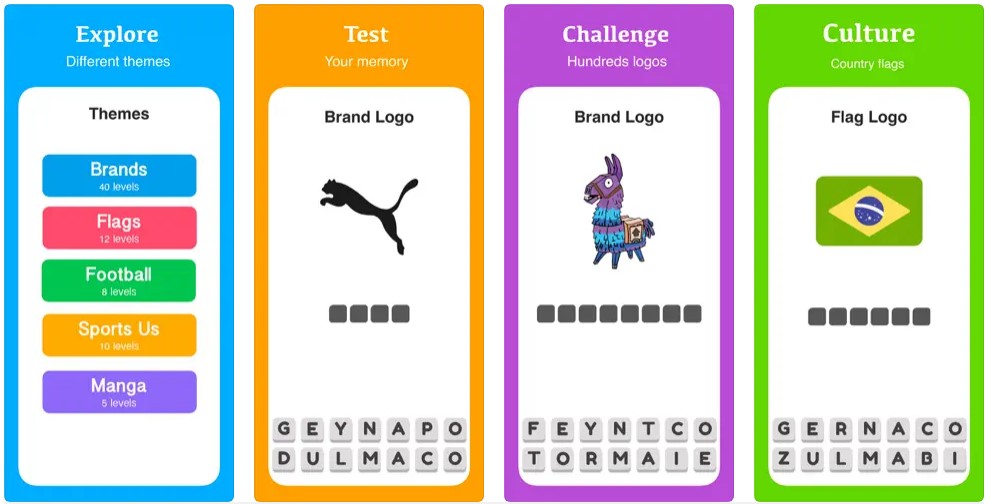 Logo Quiz is a trivia-style iPad puzzle game that tests your brand recognition abilities. Guess the logos of various companies, both famous and obscure, as you progress through multiple levels of increasing difficulty.
Featuring over 1000 official logos, what makes it one of the best puzzle games for iPhone is its easy-to-play but hard-to-master challenges that keep players on their toes.
The logos to be guessed come from various categories such as internet, tech, fashion, food, and sports, among others. With brands from all around the world, the game offers a global perspective on logo recognition.
Whether you're embarking on a road trip or going camping, this game serves as your ideal companion. It offers the convenience of offline play, allowing you to enjoy it at any time and in any location, completely independent of an internet connection.
Download Logo Quiz: Guess the logos now.
8. Brain Games – Left vs Right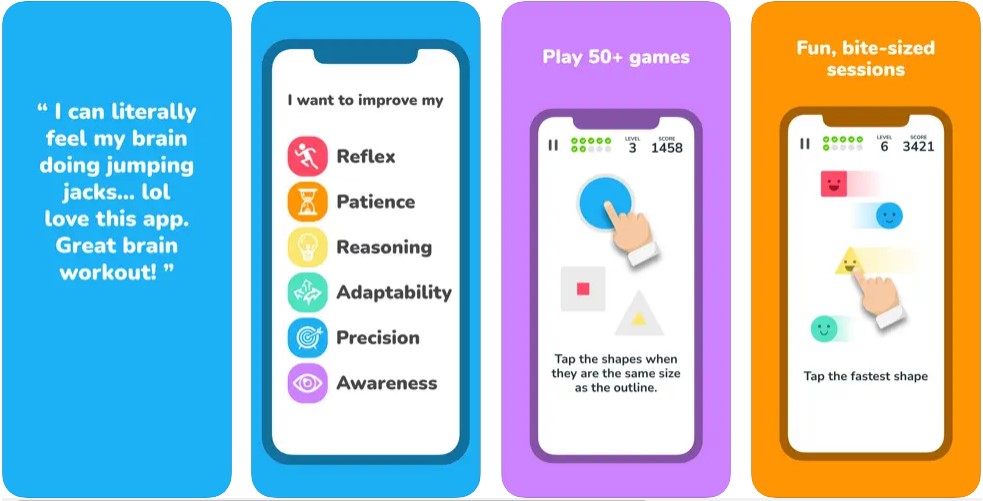 Sharpen your cognitive abilities with Brain Games – the best puzzle games for iPhone. It aims to stimulate both the left and right hemispheres of your brain through various challenges, including math problems, memory tests, and more.
This puzzle game for adults offers a diverse range of 50 mini-games, grouped into six fun categories that are applicable to your day-to-day activities.
These categories include Awareness, Adaptability, Reflex, Reasoning, Precision, and Patience. Each category targets specific cognitive skills, allowing you to train and improve various aspects of your mental capabilities.
By dedicating just 10 minutes a day to playing this game, you can enhance your cognitive abilities and effectively prepare yourself for a day full of new problems to solve.
Download Brain Games – Left vs Right from the App Store for free here.
9. 100 PICS Quiz-Guess The Trivia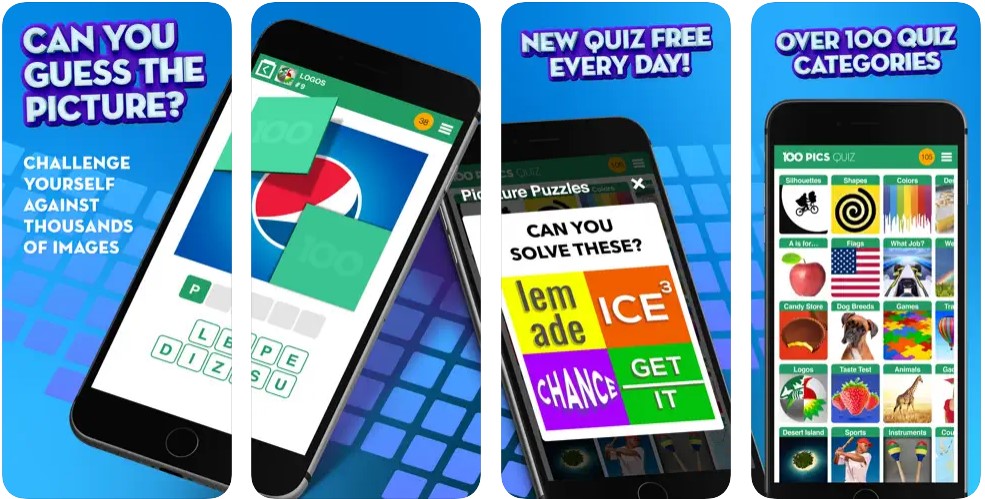 Put your general knowledge to the test with 100 PICS Quiz challenging puzzle game for adults. With over 10,000 quizzes spanning various categories, this is the ultimate app for picture guessing, brainteasers, logos, trivia, and puzzle games.
The game continually introduces new categories, keeping the content fresh and exciting.
When you start a quiz pack, you'll be presented with a series of pictures, and your task is to guess what they represent. The pictures can range from objects, animals, landmarks, celebrities, and much more.
By using fewer clues, you can win more coins and unlock additional quiz packs. Coins can be used for hints and to access more quiz and puzzle game packs.
Suitable for on-the-go entertainment, it can be played without Wi-Fi anytime, anywhere, making it the best puzzle game for iPhone.
Download 100 PICS Quiz-Guess The Trivia now.
10. The Moron Test: IQ Brain Games

Are you up for a challenge? The Moron Test: IQ Brain Games is a fun and quirky game that tests your intelligence and common sense through a series of absurd tasks.
From memory challenges to reflex tests, this puzzle game for students provides a variety of brain teasers that will leave you scratching your head.
Through tapping, twisting, and shaking your device, you'll navigate fun and tricky mind challenges that put your wits to the test. As you master the game, you can sit back and laugh as your friends and family struggle with seemingly simple puzzles.
It is considered one of the best puzzle games for iPhone for incorporating funny characters, engaging sound effects, and catchy music to enhance the overall experience.
But, don't be fooled by its humorous nature; it will push your brain to its limits.
Download The Moron Test: IQ Brain Games now.
Let the Games Begin!
The world of challenging puzzle games for adults offers a treasure trove of captivating experiences for puzzle enthusiasts.
These games provide a perfect blend of entertainment and mental stimulation, allowing players to sharpen their problem-solving skills while having a great time.
From addictive and innovative games to challenging and thought-provoking options, there is something to cater to every puzzle lover's taste.
The qualities and features of these games, including engaging gameplay, diverse puzzle types, stunning graphics, and the ability to play offline, make them stand out as the best puzzle games for iPhone.
So, whether you're seeking a quick brain teaser or a deep immersive puzzle adventure, these games are sure to captivate and challenge your mind.
Disclosure: iOSHacker may receive a commission if you purchase products through our affiliate links. For more visit our privacy policy page.