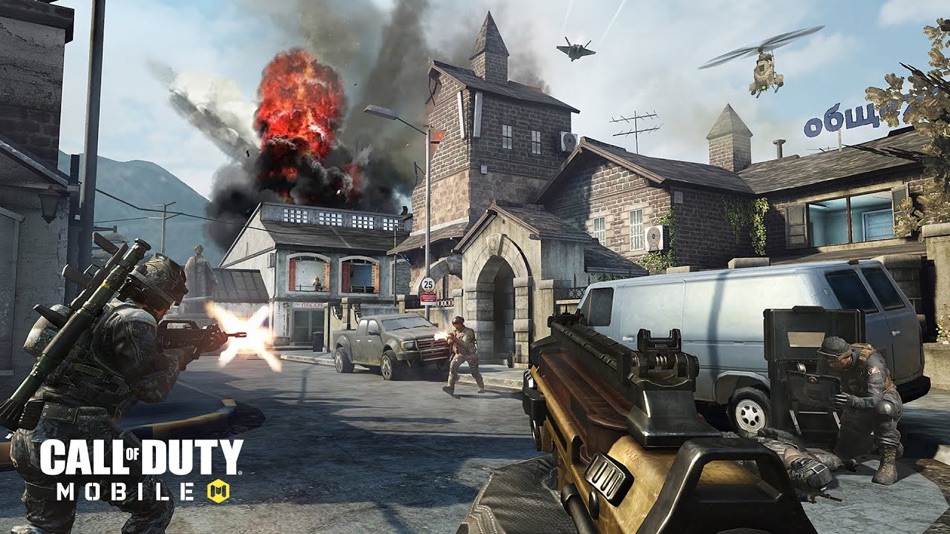 After watching the continuously increasing craze of PUBG Mobile, Activision has decided to bring their Battle Royale games to iPhone and Android devices. Therefore nearly two years ago Call of Duty Mobile has released with Battle Royale genre, offering thrilling gameplay and stunning graphics more realistic than PUBG Mobile.
It has three different modes, such as Solo, Duo, and Squad. Playing the game in squad mode is always helpful because there is always anyone around you to revive upon getting attacked by opponents; on the other hand, it is tough to survive in a game where players are playing in a team. 
Before starting the match, the player has an option to play either alone, on a team of two players, or in a team of four-player. The player has the power to heal himself/herself using a launchpad.
Once all 100 players get ready, they are dropped to an island via plane to be the last standing man. Having a lack of information regarding weapons may cause your defeat, and you should keep in mind that the opposing players won't leave a single chance to damage you. There are dozens of weapons and each one has unique statistics and abilities.
Therefore, we bring you the Call of Duty Mobile Weapons Guide: 
Call of Duty Mobile Weapon Tier List
Before learning about weapons, you should know about their tier lists that are given below. The list is categorized using alphabets that means the guns available in tier S are on top and give more damage to enemies, Guns in Tier A is good and can help you win the match, Guns in Tier B are merely okay and missing something, while the guns in Tier C are not worth your time. Therefore, it would be great if you leave them for a while if you have other options. 
Arctic .50, ASM10, AS VAL, Chopper, DL Q33, DR-H, Fennec, KRM 262, Locus, Man-O-War, NA-45, Peacekeeper MK2, QQ9, Razorback, RUS-79U, SKS, SP-R 208, Striker
AGR 556, AK-47, BK-57, Echo, GKS, HBRa3, Kilo Bolt-Action, KN 44, LK24, QXR, Type 25, XPR-50
AK117, BK57, BY15, Chichom, Cordite, FR .556, HVK-30, HSD405, ICR-1, M21 EBR, M4LMG, MSMC, Outlaw, PDW-57, Pharo, RPD, RUS-79U, UL736
M16, M4, HG 40, HS2126, HS0405, S36
Top 10 Best Call of Duty: Mobile Weapons
After the tier list, we have compiled a list of the best weapons that you should use when in battle. To survive longer, you must prefer sniper in when the area is too much, and when the distance is close between you and the opposing team, then using a shotgun would help you give more damage to players.
Here are the best Weapons: 
Man-o-War – Assault Rifle
DL Q33 – Sniper
DR-H
ASM10
QQ9
HVK-30
Locus
AS VAL
MSMC
AK117
If you are new to the game and don't want to start your career from the beginning, then we suggest you buy Call of Duty Mobile Account or even a Call of Duty Modern Warfare Account from Eldorado.gg because accounts are on sale now at a reasonable price by other players. 
Disclosure: iOSHacker may receive a commission if you purchase products through our affiliate links. For more visit our privacy policy page.