In just 4 days since Super Mario Run's launch, it has already seen 40 million downloads. Needless to say, it has become an instant hit. Now, it seems like Mega Man will be coming to your iPhone soon too. Capcom has posted a press release announcing that the Mega Man titles originally released on the Nintendo Entertainment System (This includes the original Mega Man, Mega Man 2, Mega Man 3, Mega Man 4, Mega Man 5, and Mega Man 6) will be coming to iOS and Android in early January 2017. The games will retail for $2 each. Assuming that Capcom does not include a discounted bundle, the price for the entire series would be $12.
Not many other details have been released as of now, besides the fact that "Each game has been optimized for the mobile devices with adjustments to game speed." For example, it is unknown if this will be a basic port, or if the app will include new features and options. It is also unknown how the controls will work, and if it will support external controls. There is also no mention on it supporting tvOS, although that is a feature that could be added it the future, as it as one I myself and many others would love to have.
The original NES Mega Man games were known for being brutally tough. It will be interesting to see how a player would be able to play the game while using touch screen controls. Interestingly, each game has the word "Mobile" in it. It could be that "Each game has been optimized for the mobile devices with adjustments to game speed." could refer to some of the difficulty being toned down to accommodate the touch screen, although bear in mind that this is simply speculation. Two games modes could also be supported; one adapted for touch screens, and the original, perhaps for those who use an external controller. The names and descriptions of the games are as follows:
Mega Man® Mobile – The evil Dr. Wily must be stopped in this classic action platformer, the original Mega Man!
Mega Man® 2 Mobile – Dr. Wily resurfaces to threaten the world again! Only Mega Man can stand in his way.
Mega Man® 3 Mobile – Fight berserk robots on uncharted planets. Mega Man must set a course for space to resolve this mysterious crisis.
Mega Man® 4 Mobile – A year has passed since Mega Man's battle in space. A new enemy appears — Dr. Cossack.
Mega Man® 5 Mobile – Manic robots cause chaos in the city. How is Proto Man involved? Only Mega Man can find out!
Mega Man® 6 Mobile – The Global Robot Alliance is formed, but this newfound peace is threatened by a new foe — the enigmatic Mr. X!
As mentioned, all Mega Man Mobile games will be released in early January of 2017. If you would like to be notified when it is released, you can sign up for an email notification here. It won't be much longer until we know all the details about Capcom's newest iOS titles!
What are your thoughts? Are you excited that Mega Man will be coming to iOS? Let us know in the comments section below!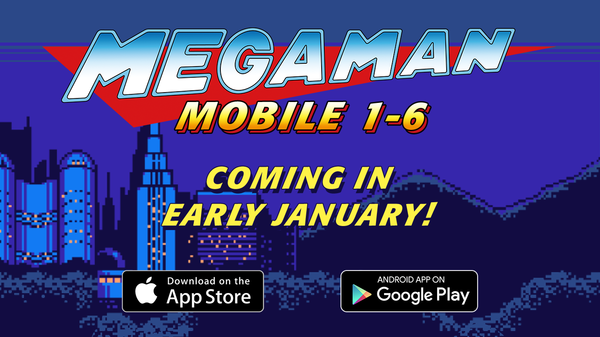 Source: Capcom Mobile