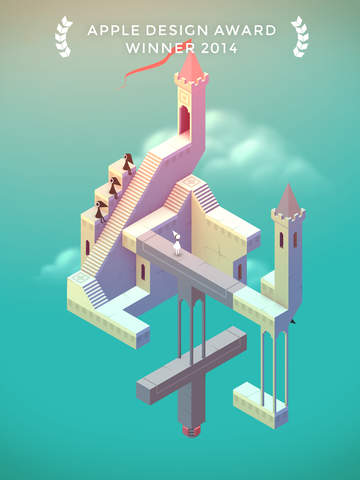 Monument Valley is one of the most high profile games available on the iOS platform. The game has won many prestigious awards for its beautiful design and gameplay. If you have been holding off buying this game, then now is the time to download it as the game is available for absolutely free on the App Store. Monument Valley has suddenly gone free and no one knows when the promotion might end. It seems like Monument Valley is available for free on its own, as it is not part of the App Store's official 'Free app of the week' promotion.
Normally Monument Valley sells for $3.99, so it going free is a big development, and a deal that should not be missed by anyone who likes this game or iOS gaming in general. If you are interested in downloading the game then simply head to the App Store using the link below and hit the download button. As we don't know when the promotion will end, it is in your best interest to download it as soon as you can.
In Monument Valley you will manipulate impossible architecture and guide a silent princess through a stunningly beautiful world.

Monument Valley is a surreal exploration through fantastical architecture and impossible geometry. Guide the silent princess Ida through mysterious monuments, uncovering hidden paths, unfolding optical illusions and outsmarting the enigmatic Crow People.
This is the first time this title has gone completely free, as previously its price was reduced to $0.99 before going back up.