If you are looking for a time killer game for your iPhone or iPad, then Vikings: War of Clans is something you need to start playing right now. This fun and exciting MMO strategy game allows users to play PvP and PvE battles while building and upgrading your clan and army. The game focuses on the player building a strong town and then using his or her army to roam the kingdom, and raid on resources. You also have to defend your clan against real enemies.
In the Vikings: War of Clans game you act as the wise Jarl of your town, whose duty is to construct buildings, train his army, gain knowledge and take part in the campaigns. Once you have erected your very own Viking Town, you start building barracks, manor, infirmary, war bloc and workshop. Construction of each these buildings serve a different purpose and allow you to do different things in the game that are necessary for your survival. You also have to gather resources and upgrade the buildings, so you can train more capable units.
There's never a dull moment in the game, as you are constantly given new quests to complete. Completing the quest not only brings in rewards that you can use to improve your position in the game but also help you in keeping your clan powerful and competitive. You can go into the world view and see other towns nearby as well as locate resources that you can send troops to raid.
Getting knowledge in different disciplines such as Economic, Military, Espionage, Training, Invaders, Hero, Troops and more is also essential for winning battles. Learning new knowledge will allow you to improve your military might as it will help in increasing the key characteristics of your troops, warriors, invaders, heroes and improve the key economic processes of your town. Players can learn a new knowledge using the gathered supplies of wheat, wood, stone and other resources.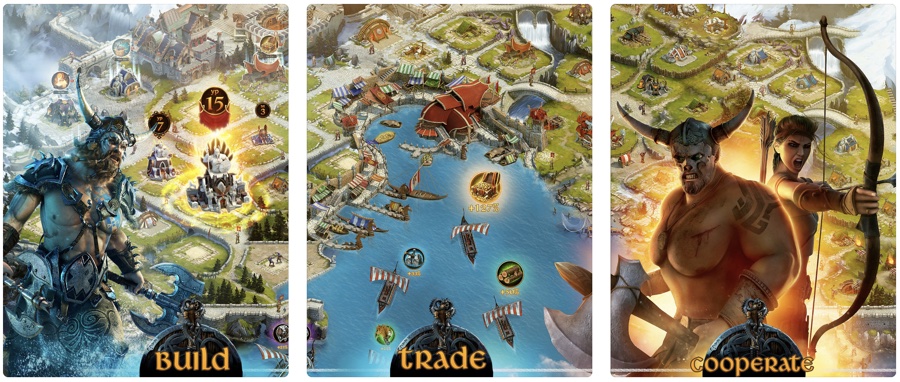 Vikings: War of Clans is a beautifully designed game that is free to play, however you will have to get in-app purchases if you want to buy virtual currency, which should significantly boost your standing in the game. You can buy gold, get knowledge to speed things up, improve yields and much more.
The game offers many troop classes that allow you to create an all-around army consisting of mercenaries, horsemen, archeresses, slayers, trebuchets, stalkers, shield-maidens, raiders, nomads and more. Each of these troops have their unique abilities that can be helpful in winning battles against enemies.
Construction of buildings, creating troops, upgrading knowledge and other tasks can take some time to complete. You can boost any ongoing tasks for free while it is in the last 5 minutes of completion or use hour or minute boosts to finish these tasks more quickly. You are awarded new boosts when you complete quests. You can also use coins to buy and apply boosts, however it is a good idea to do so if you plan on using in-app purchases to buy more gold as boosts can be expensive.
The game also offers multiple language options, so you can play in your native language. There's also a built-in chat that lets you communicate with other online players from around the world, which can be a fun way to interact with other players who like the game.
You can also create your own clan or join a clan created by others. Each clan can have up to 100 members and has its own influence, language and type.
In addition to having a highly addictive and fun gameplay, the Vikings: War of Clans is also a well-designed game that you can spend hours playing. It is well designed, and the graphics look spectacular on all devices, especially on the iPad's larger screen. Since there's a lot of tapping and going around menus in the gameplay, the game's menus and user-interface is also very well designed and takes almost no time of getting used to. The background music that plays during the gameplay also increases engagement for the game and adds a classic feel to the game. It is certainly one of the great strategy games for iPhone.
You can download this fun game from the App Store for free. As mentioned earlier, it is free to play but offers optional in-app purchases.
Disclosure: iOSHacker may receive a commission if you purchase products through our affiliate links. For more visit our privacy policy page.