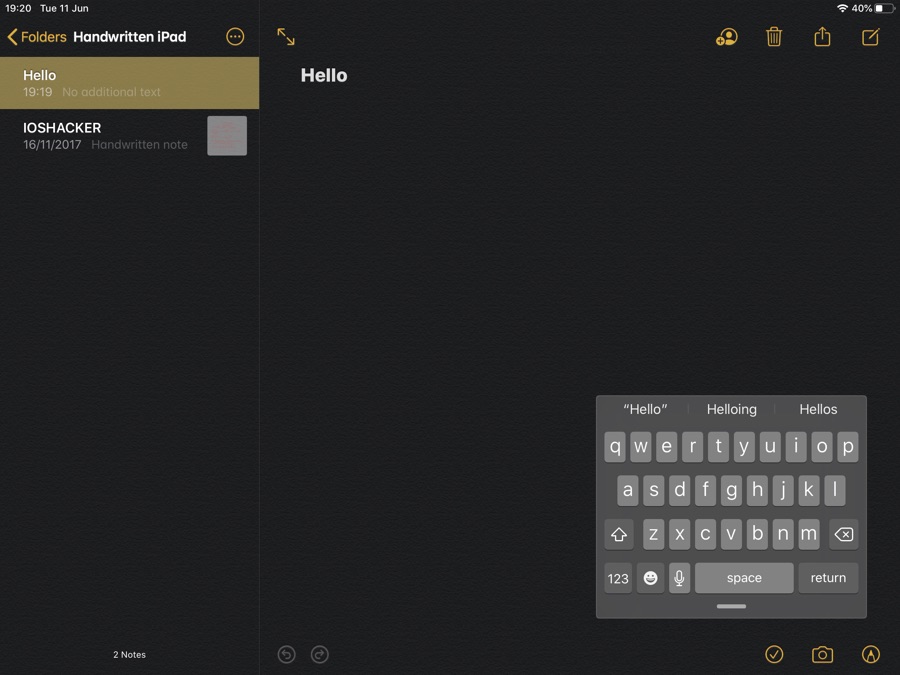 With iPadOS 13 Apple has made it a lot easier to type on the iPad using the on-screen keyboard. With the new operating system iPad users can make the keyboard significantly smaller and type with one hand a lot more conveniently.
The new compact keyboard is almost the same size as the iPhone keyboard, making it super easy to type with one hand. The new QuickPath feature, which allows users to type by swiping from one key to another is also available only on the compact keyboard mode. However the new compact keyboard can only be accessed with a quick gesture.
You can make your iPad keyboard smaller and also access QuickPath swipe feature by simply performing a pinch out gesture on the keyboard (same gesture used to zoom out in Photos app). As iOS Keyboards Engineer Ron Santos points out on Twitter, you can also access the compact keyboard by long pressing on the dismiss keyboard button (located at bottom right side) to access a menu and move your finger to 'Floating' option to enable it. You can also use this menu to access the Split keyboard.
Once you have made the keyboard smaller you can use it to type with one hand or swipe across the keyboard to type with the QuickPath feature. You can also move the compact keyboard around by placing your finger on the small bar that can be found right below the space key. By grabbing the bar you can move the keyboard left or right side as well as to any other part of the screen.
So this is how you can make your iPad's on-screen keyboard smaller and get access to the new QuickPath feature.
I have tried using the new compact feature on the iPad and can say that it does make typing with one hand a lot easier. Combine that with very effcient swipe keyboard and you get a great typing experience on your tablet.