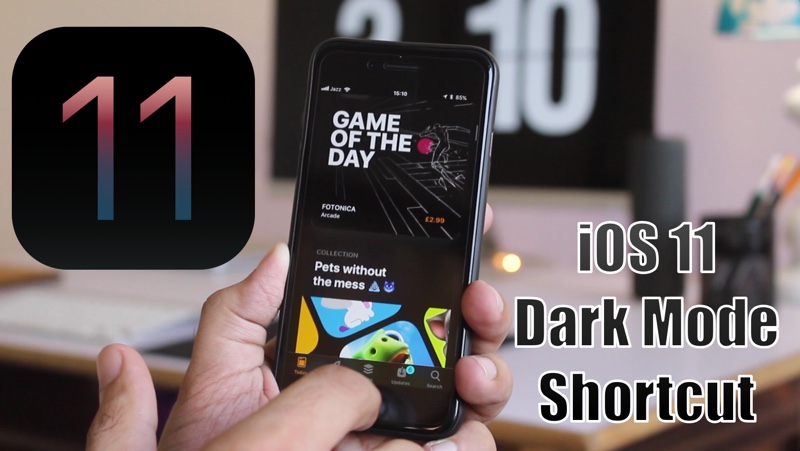 iOS 11 has a brand new Smart Invert feature, which is a big improvement over the Classic Invert feature that has been around for many years. If you are someone who wants to use the Smart invert aka dark mode on iPhone or iPad, but have been avoiding it because of the tedious activation process, we have got a great tip for you.
With the Smart Invert feature you can enjoy a very usable dark mode on your iOS device. Most stock apps are optimized for smart invert feature so images, text and UI elements don't get inverted, giving you a far better user experience.
While activating Smart Invert from Settings is hard, turns out you can assign a quick shortcut to the smart invert feature, which will allow you to turn on the dark mode from anywhere on iOS. Read on to learn how.
Add Dark Mode Shortcut to iOS 11
While a complete tutorial is available in the video above, those of you who prefer a written guide can follow the steps below.
On your iPhone or iPad launch the Settings app and go to General > Accessibility.
Scroll all the way down on the Accessibility page and tap on the 'Accessibility Shortcut' option.
On the next page tap on the 'Smart Invert Colors' option. Make sure a tick appears next to it when you tap on it.
Return to the homescreen and quickly press the home button three times. On the third press either the dark mode will be activated or you will get a menu with Smart Invert option on it. In case of the menu tap on the Smart Invert option.
From now on you will be able to quickly activate dark mode on iOS 11 by tapping on the home button three times. To turn off the dark mode you can again tap on the home button.