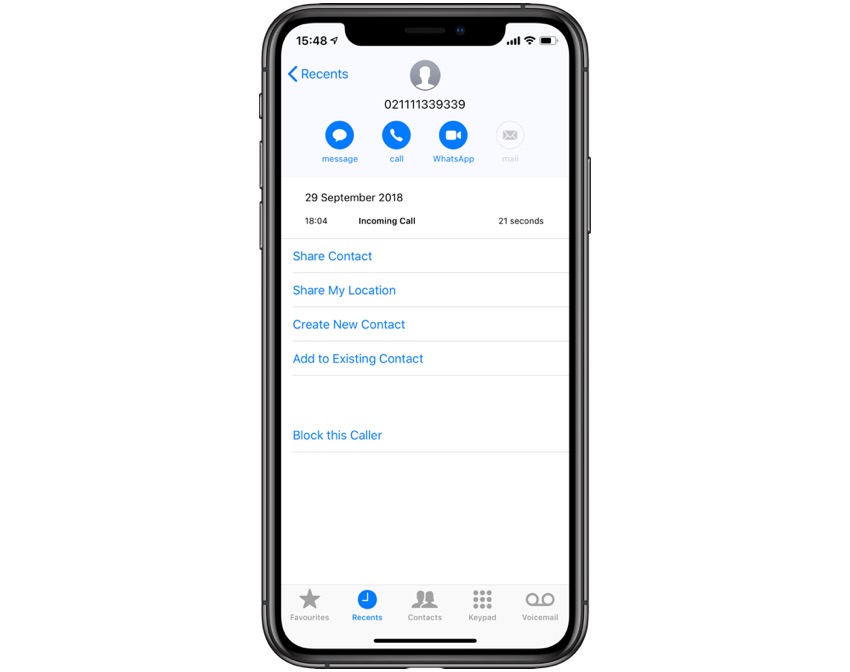 If you are sick and tired of receiving calls from unknown phone numbers and want to do something about it, then we have got you covered. In this tutorial we will show you how you can easily block a phone number on your iPhone running iOS 12. Once a number has been blocked it will no longer be able to annoy you by calling you, sending you messages or FaceTime you. We will also share with you a tool that allows you to get detailed report on the number calling you, letting you see whose calling you, that person's name, social media profiles and more.
To block a phone number on iOS 12 follow the simple steps below.
On your iPhone launch the Phone application.
If you have received a phone call from this number recently then tap on the 'Recents' tab.
After finding the number tap on the 'i' button next to it.
You should now be on the detail page for that number.
Scroll down on the page and tap on 'Block this Caller' option.
After doing so that phone number will get blocked and you will no longer receive any calls from this particular phone number. Repeat these steps to block all the unknown numbers on your iPhone. If you want to know who is the caller behind the phone number, then you can check out the Reverse Phone Lookup tool, which will reveal the contact information, social media profile, address history and more for the phone number in question.
If the number you want to block is in your contacts list, then you can block them as well. To do so tap on the 'Contacts' tab of the Phone app and then find the contact you want to block. Next tap on the person's name and from the profile page tap on 'Block this Caller' option.