At some stage in our lives we have all bought or sold a used Apple iPhone, iPad or iPod touch. It is a fairly easy and simple process that involves the seller removing all his or her data from the device before handing it over the buyer. While the process is simple it is crucial that you perform one important step before you buy a used iPhone, especially from an online marketplace. As a buyer you should always make sure and check activation lock is not enabled on the device you are purchasing. In this post we will show you how you can check if iPhone, iPad or iPod touch has Activation Lock enabled. Follow the simple steps below.
From the buyer's point of view purchasing a device from an untrusted online seller, which has activation lock on can be catastrophic. You won't be able to use the device. As you turn it on it will ask for the Apple ID details of the first owner and won't go past that page until the information is entered. If the seller provides that information, then you can proceed however if the device was stolen there is no way of getting past the activation screen and the device will be of no good to you.
It is the duty of both the buyer and the seller to check Activation Lock is disabled on the device that is being sold. To check activation lock status of any iOS device you will need its Serial Number. In the case of an iPhone the IMEI number can also be used. A serial number of the device is private and can be obtained from the device itself. If you are a seller you can find the serial number by going to Settings > General > About. If you are a buyer you will have to contact the seller and obtain the serial number of the device in question. Once you have this information you can proceed to the next step.
Check Activation Lock Status on iPhone, iPad or iPod touch
Step 1: On any web browser open icloud.com/activationlock web page.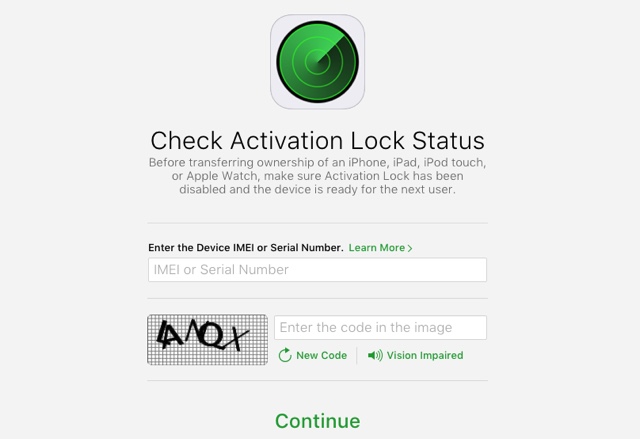 Step 2: On the check Activation Lock website under 'Enter the Device IMEI or Serial Number' enter the serial number of the iPhone, iPad or iPod touch.
Step 3: You will also have to enter the captcha code. Enter the code correctly and hit the 'Continue' button.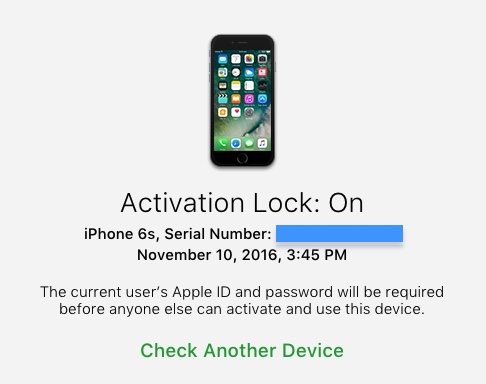 Step 4: The next page will display the current Activation Lock status of the device. If the device has Activation Lock, then you will get the 'On' status, if it is disabled then you will get the 'Off' status.