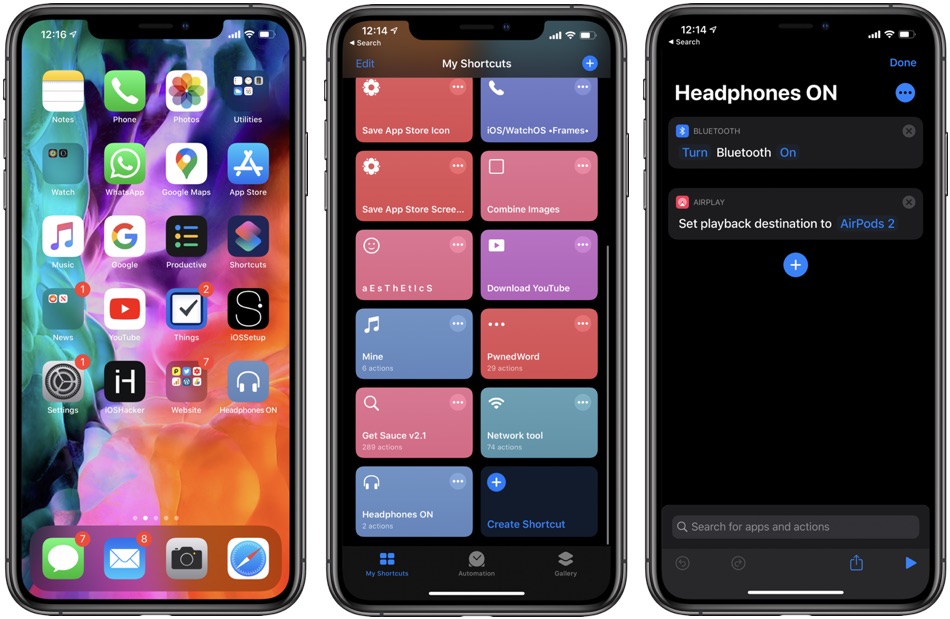 With the new W1 and H1 chips Apple has made it a breeze to connect your AirPods or Beats headphones to an iOS device. However there are times when even your AirPods won't automatically connect to your iPhone as easily as you would expect. This could happen for various reasons such as your iPhone's Bluetooth might be off or your iPhone might be delivering audio to another device.
Then there are non-Apple Bluetooth headphones, which require users to first connect to their iPhone, then use Control Center's AirPlay menu to select it as a the main audio output.
Good news is you can make the process of connecting your AirPods or any other Bluetooth headphones easy using a Siri Shortcut. When initiated this shortcut does two things.
The Shortcut will first enable iPhone's Bluetooth even if it is turned off through the Settings app. Then it will make sure the iOS device connects to your headphones, after which it will automatically set the playback destination to your AirPods.
The best thing about 'Headphones ON' Shortcut is that it is not limited to Apple AirPods as you can also use it with any Bluetooth headphones including those made by Beats, Bose, Sennheiser and more.
Download and Set Up Shortcut For Connecting AirPods Easily
Using this Shortcut to easily connect AirPods or any Bluetooth headphones to an iPhone or iPad is very simple. You can follow the steps below to setup this shortcut on your device.
Important: Before you begin make sure your AirPods or other Bluetooth headphones are connected to your device. In step 4 you will be configuring the shortcut to connect your device to these headphones.
Download the Headphones ON Shortcut here. Unable to add the shortcut to your device? Follow this guide.
Open the Shortcuts App and find the Shortcut you just downloaded.
Tap on the '…' button located on top right corner of the shortcut's tile.
Now you have to make sure your Bluetooth headphones are already connected to your iPhone. Then tap where it says 'AirPods 2' and then from the menu choose your own AirPods or Bluetooth headphones by tapping on them. Note that they will only appear if they are on and connected to the device.
Finally hit the Done button and then Run the shortcut to test it.
Add easy access shortcut to the homescreen (Optional)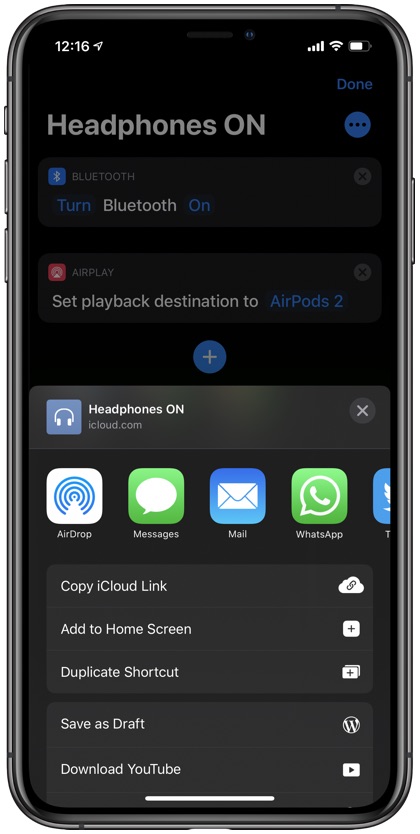 Now that your Shortcut is all set up you can make it easier to run it by adding a shortcut icon for it on your home screen. To do so open Shortcuts app, find the shortcut and then tap on the '…' button. From the next screen tap on the share button and then finally tap on 'Add to Home Screen' option.
There you go folks, this is how you can make connecting to AirPods or any Bluetooth headphones easy even when the device's Bluetooth settings are off. If you found this tip and shortcut to be helpful then please let us know in the comments section below.
Also, please consider subscribing to iOSHacker's official YouTube channel for useful tips, tutorials and reviews.
Disclosure: iOSHacker may receive a commission if you purchase products through our affiliate links. For more visit our privacy policy page.