Don't like the notch and want to hide it with your favorite wallpaper? We have got you covered. While there are paid applications that let you create Notch-less iPhone X Wallpapers right on the iPhone, why pay extra when you can do them same using Photoshop in just a few seconds. In this post we are going to share with you an iPhone X Notch-Less template, which will make it super simple to create notch-less iPhone X wallpaper in apps like Photoshop or Pixelmator.
While the PSD shared in this post will definitely work on these two apps, you can also use them in any image editor that support this image format.
Below you can find the quick step by step tutorial that will help you in turning any wallpaper into a notch-less wallpaper for the iPhone X.
How To Create Notch-Less iPhone X Wallpaper in PhotoShop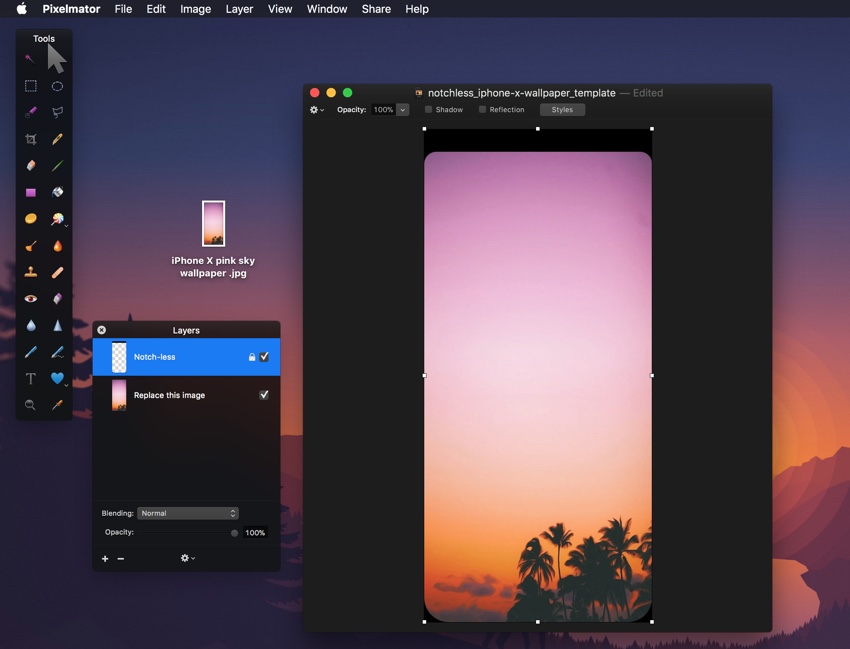 1 ) First of all download this iPhone X Notchless Template.PSD file. This is the file you will be editing to create Notch-Less Wallpaper for your iPhone X.
2 ) Now open the app in your favorite image editor. You can use any app that supports .PSD files like Adobe Photoshop, however in this tutorial we will use Pixelmator.
3 ) Once the image has been loaded, drag the image you want to use as iPhone X wallpaper and drop it on the image editor. Make sure the image is 1125 x 2436 px or higher for best quality.
4 ) After dropping the image make sure the 'Notch-less' layer is on top.
5 ) Adjust the wallpaper image by moving it with the cursor.
6 ) Once you are done simply save the image as PNG or JPEG.
7 ) Send this file to your iPhone X and Apply as your wallpaper.
Here's how final result should look like.
That's how you can create notch-less wallpaper for your iPhone X and hide the notch if you find it ugly or annoying. Do note that this will only 'hide the notch' on the homescreen and the lockscreen, in apps the notch will still be visible. This trick does a pretty good job at hiding the notch.
Disclosure: iOSHacker may receive a commission if you purchase products through our affiliate links. For more visit our privacy policy page.