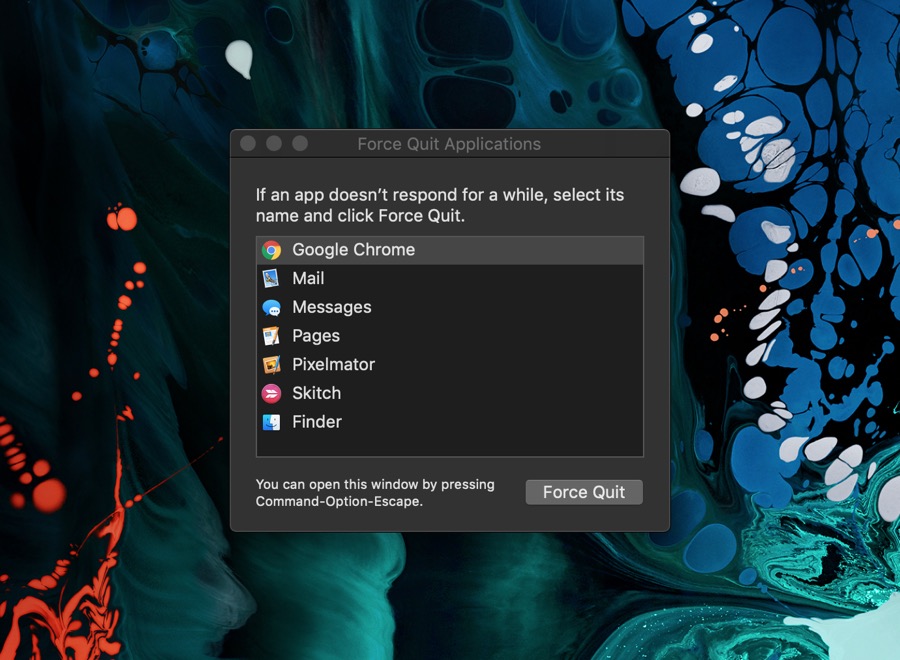 Windows users often ask what is the equivalent of Control + Alt + Delete on Mac for force quitting apps that have become non-responsive.
If you are also confused and want to know the shortcut to access equivalent of 'Task Manager' on your Mac, then we have got you covered.
No doubt there are several ways to end programs on a Mac, however, what if I tell you about a specific sequence that works similar to Ctrl+Alt+Del on Windows. Today, I am going to tell you this 'key' to get rid of frozen programs if you are a new Mac user who has recently switched from a Windows PC. 
Command + Option + Escape Mac

In order to quick end or quit an app on Mac, press Command ⌘ + Option ⌥ + Escape on your Mac's keyboard.
When you press this key combination Force Quit tool appears that lets you quickly force quit apps no matter if they are working properly or are unresponsive. Whether you are stuck or not in any program, this combination of keys helps you exit.
You can also access the Force Quit tool on your Mac by clicking on the  logo and then choosing the 'Force Quit…' option from the drop down menu.
Equivalent of CTRL + ALT + DEL on Mac
If you are a long time Windows user who has switched to the Mac, to carry out the CTRL + ALT + Escape function on Mac, press Command ⌘ + Option ⌥ + Escape keys together. A task manager like window will be displayed however it will be called Force Quit Applications, from this tool you can click on the program name and click on "Force Quit". After that, you can confirm the ending of the application process immediately. 
Similar to the process of ending a program in Windows, clicking on Force Quit on Mac will stop the app and kill the underlying process that causes stuck or frozen apps.
However keep in mind that when you force quit an application like this if there's any data that is not saved in that application, it can potentially get lost permanently.
If you are using a Windows keyboard on your Mac or are running Macintosh remember that the "Alt" key on Mac is labeled as "Option".
Similarly on some Mac keyboards the Option key is also labeled as Alt. Hence Command + Option + Escape and Command + Alt + Escape on Mac essentially mean the same thing. 
What way do you pick to exit a frozen program? Share with me in comments below.